Film Review: 'Jumanji: Welcome to the Jungle' Starring: Dwayne Johnson, Kevin Hart, Jack Black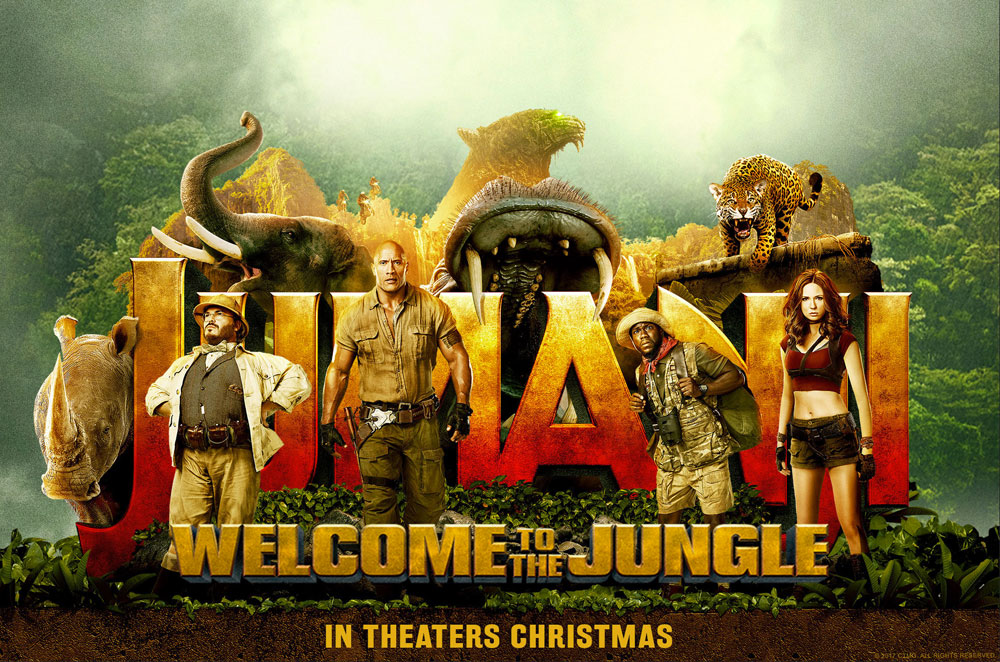 Dwayne Johnson is the catalyst, the glue, or The Rock, if you will, that holds Jumanji: Welcome to the Jungle together.
The wrestler turned actor and one of the most endearing leading men in show business shows why he is Hollywood's $20 million-man in the sequel to the 1995 Robin Williams hit.
Johnson's comedic charm is enough to make an unnecessary sequel enjoyable.
Throw in Kevin Hart doing what Kevin Hart does and Jack Black, well, being Jack Black and you have a 119-minute film that plays like a video game.
Jumanji's concept isn't a new one. Take a little bit of The Breakfast Club and mix it with Honey I Shrunk the Kids, while tossing in an homage to the original film and you have Welcome to the Jungle.
Johnson plays Spencer, who is really a dorky video game fan, played by Alex Wolff, until he is sucked into a video game, morphing into a muscle-bound hero. (Think Indiana Jones on Creatine.) He is joined by fellow high school students, who are all very different from each other. Kevin Hart plays Anthony, a high school football star nicknamed Fridge. Hart's character is morphed into less of a jock and more of an explorer. Jack Black is just plain silly as Bethany, your typical popular cheerleading type who gets trapped in the body of a middle-aged, scientist. The fourth character in the film is played by Karen Gillan of Guardians of the Galaxy. While not being a marquee name, Gillan is able to hold her own as a shy loner transformed into a bad-ass, Laura Croft type.
Really, the only disappointing character in the film is played by Nick Jonas. I was particularly looking forward to seeing Jonas along side of the likes of Johnson, Hart and Black. Jonas' portrayal of a gay MMA fighter in the show Kingdom is nothing short of entrenching and brilliant. He deserves so much more fanfare than he gets for his acting chops. In Jumanji, Jonas' just doesn't have the chance to shine like the rest of the cast. Jonas plays a pilot who has been stuck in the game since 1996.
While the original film was focused around a board game, that sentiment is replaced early on in the film by a video game, that serves as the entryway to Jumanji. The new film and 1995 film are basically totally different after that.
Where the film succeeds, besides the comedic banter of Johnson, Black, and Hart, is in the underlying message the film exudes. Teamwork, hardwork, and believing in yourself are the common themes in the film, all good messages for the targeted audience of teenagers.
While the sequel may seem fun, which it is at times, it also seems too little, too late. Perhaps if Williams could have reprised his role 20-years earlier, Welcome to the Jungle would have been even better. But, alas, it's 2017 and Williams is no longer alive. Instead, audiences are treated to some slightly above average CGI and Johnson's charismatic smile and personality, which in itself, is enough to save just about any film.
Jumanji: Welcome to the Jungle gets a B-.