Film Review: 'Pitch Perfect 3' starting Anna Kendrick, Rebel Wilson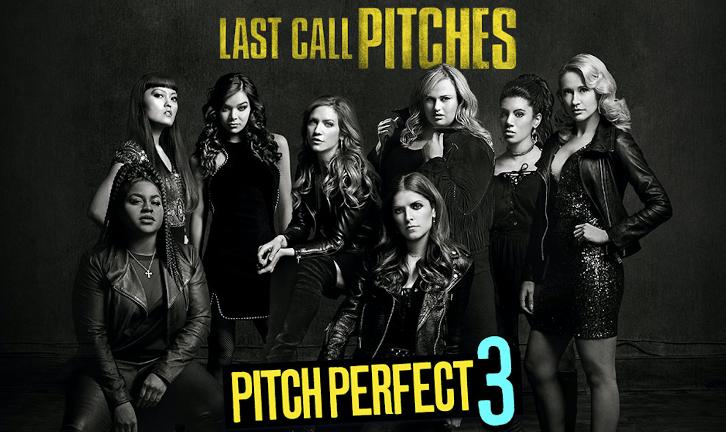 Star Wars. Back to the Future. Lord of the Rings. Pitch Perfect?
Pitch, please.
Pitch Perfect is a movie that never needed a sequel, let alone two. It was one of those movies that snuck into my life and surprised me. When I saw it being advertised as coming to HBO some time in 2013, I wasn't really at all interested. In fact, before then I can't recall even having heard of it. It wasn't until I caught a piece of the film during one of HBO's hundreds of airings that I realized just how fun and delightful it actually was and it became something I probably watched a dozen times or more. If you would have told me in 2013 that it would spawn two sequels though, I wouldn't have believed you. It doesn't warrant them. I went into Pitch Perfect 2 in 2015 with very low expectations and still left extremely disappointed at the very evident cash grab having disgracefully cloned its predecessor but nowhere near capturing it's magic. Then to my surprise, a threequel was announced to close out the Pitch Perfect trilogy and here we are today.
Pitch Perfect 3 is not a good movie – a far cry from the original, but it's somewhat entertaining because it embraces the ridiculousness of it even existing. Within this (hopefully last) installment, returning writer Kay Cannon reunites the struggling former-Bellas on a USO tour for the troops which also happens to be a competition of sorts in which the winners would be chosen by DJ Khaled (playing himself) to open for him on a much bigger stage.
Of course, the film centers again around Beca (Anna Kendrick) as she quits her music producer job after it is not what she expected it to be after spending two films trying to achieve it. Mixed with that (and more focused upon) is an incredibly ridiculous subplot centering around Rebel Wilson's Fat Amy character as she reconnects with her father (an out of place John Lithgow) who may or may not have an agenda of his own. The film certainly revolves around Fat Amy a lot more than previously, and during the film's climactic third act, the viewer will surely be in utter disbelief but laughing hysterically throughout the insane events transpiring on screen.
Much like the sequel though, Pitch Perfect 3 lacks the engagement and originality that the first film produced and sticks to the same beat. While performing on a USO tour is a serviceable reason to get the Bellas all together in their post-college adult life, the focus is lost when a needless competition is introduced to create tension but ultimately just fizzles out off-screen by the end of the film. Three new groups are introduced mostly for the sole purpose of having a "riff-off" once again (because it wouldn't be a Pitch Perfect film without one, right?) While I enjoyed this segment in the first film immensely, neither of the renditions in the following films reach that level of fun and only seem to be in the movie to remind you of the time it was once a really cool idea. My favorite line in the movie comes from Beca following this movie's riff-off in her questioning why they keep challenging people to them because they never win. Well she's right and neither does the audience after the first film.
While the film had some genuinely funny moments, it also felt very forced during the rest of it. Anna Kamp's Aubrey was very much a shell of her strong and determined self and was wasted with a small subplot of emotional turmoil as her father has never seen her perform, but conveniently he's a high ranking official so she is responsible for pushing the plot along by getting the group on the USO tour. Brittany Snow's Chloe finds love in one of the soldier escorts from base to base to provide the movie some form of a romance arc. Hailee Steinfeld returns as the next generation leader of the Bellas but doesn't really have much of anything to do but be the butt of Fat Amy's jokes, sadly.
In the end, it is what it is. Did we need a Pitch Perfect 3? Absolutely not, but I believe it to be more entertaining than the second film at the very least. I just hope this franchise is aca-finished.
C-