Film Review: 'Draft Day' Starring Kevin Costner, Jennifer Garner, Denis Leary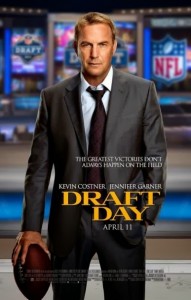 If there's anything Kevin Costner knows, it's sports films.
Costner, whose film career has spanned five different decades, has permanently endeared himself in the hearts of baseball fans everywhere with his performances in Bull Durham, Field of Dreams, and For Love of the Game. He played a golfer in Tin Cup. Now, after helping save the world earlier this year in Jack Ryan: Shadow Recruit and 3 Days to Kill, Costner's going back to the sports world into uncharted territory (for him, anyway): football.
Now, I'll admit I'm probably a bit biased when it comes to sports films. I grew up rooting for the Cardinals and Blues, and when the Rams moved to town, I adopted them as my football team. I've rooted for SLU and Mizzou sports for as long as I can remember. So it bothers me a bit when people quickly dismiss sports films, claiming either the topic is trivial to them or the ending is predictable.
And their points aren't entirely invalid. Sports films tend to follow a particular formula, and they're not going to be interesting to everyone. Draft Day tries to throw twists and surprises into the story, but for the most part, it's generally predictable. Fortunately, though, it still works, and it works well.
It was almost a little eerie attending the screening with some of the Rams players this week, as the fictional Cleveland Browns franchise portrayed in the film draw a few parallels to St. Louis's recent history. Cleveland's heart was torn out when the Browns moved to Baltimore; St. Louis's heart was torn out when the Cardinals moved to Arizona. Cleveland got a new team that's struggled most of its nascent history; St. Louis got a new team that, with the exception of five or so terrific years, has struggled most of its nascent history. In the film, the Browns face uncertainty as they attempt to rebuild through the draft, as they got off to a hot start with their franchise quarterback, Brian Drew (Tom Welling from "Smallville" fame), through their first six games before he suffered a season-ending knee injury in the seventh game. This past season, the Rams got off to a promising start through their first six games before their franchise quarterback suffered a season-ending knee injury in the seventh game. And so on.

For the Browns, though, GM Sonny Weaver Jr. (Costner) is stuck with some tough decisions. The consensus number one pick, Wisconsin stud quarterback Bo Callahan (Josh Pence), will likely be gone by the time the Browns pick in the seventh spot. Weaver's given the chance to trade up with Seattle, who has the top pick, but he'll have to mortgage the future for it.
Supporting him is Ali Parker (Jennifer Garner), one of the team's financial wizards responsible for making sure the team doesn't go over the salary cap. Ali, who has been dating Weaver, has to balance doing her job and standing with Weaver publicly while the two quibble in the background. Garner isn't given a whole lot to work with in terms of material, but she does a decent job portraying Ali with an air of intelligence and independence mixed with a dose of insecurity.