'Evil Dead' Remake Review: Holds Up to Raimi's Classic Film Even Without Bruce Campbell in the Lead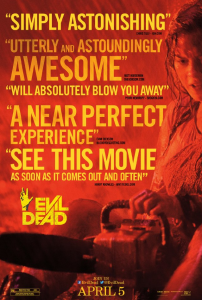 The truth is, remakes and updates don't usually end up being the best movies. Especially when you take a beloved movie like The Evil Dead, one of the most popular horror movies of all time. Yet sometimes a film like Zack Snyder's 2004 Dawn of the Dead comes along, that can actually stand up to the original. Luckily for a card carrying S-Mart members everywhere, Evil Dead is the latter.
For those wondering how close this updated version of The Evil Dead is to the original, I would roughly say about 30 percent. It takes place in a cabin in the woods, and there's an evil book. There are some uncomfortable scenes with trees, and fast moving camera shots sweeping through the woods. The film pays homage to many of the things that we love about the original, while changing enough to make it seem fresh and warranting a re-imagining. Never do you feel like it is bastardizing the original art.
The story revolves around 5 friends going to the cabin, but this time it isn't for a vacation. David (Shiloh Fernandez) has lost touch with both his friends and family after moving to Chicago for work. But when his little sister Mia (Jane Levy) decides to have an intervention for her drug problems, David joins her and their friends at their family cabin in the woods. He is joined by his girlfriend Natalie (Elizabeth Blackmore), Registered Nurse Olivia (Jessica Lucas) and old friend Eric (Lou Taylor Pucci). After withdrawal kicks in, Mia starts to freak out and complains about strange smells. They eventually discover a strange ceremonial sacrifice in the basement, along with what eventually reveals itself as the book of the dead. Unfortunately passages get read, and it couldn't be a worse time for Mia's friends to think she is hallucinating when the demons come looking for them.
The film is extremely well made. There have been a lot of disappointing horror movies lately, especially remakes. Part of the reason is that the filmmakers don't seem to take the time to turn them into good films. Often times modern horror movies are all about cheap scares, rather than being original and concentrating on a good story. Evil Dead does everything right in that arena. The cinematography looks fantastic, something that doesn't usually stand out in the genre. There are plenty of great shots throughout the film that make the film interesting from an artistic standpoint. The story is also concise, and keeps a good pace. The film never even begins to drag at 91 minutes. This is Fede Alvarez's first feature, and he knock it out of the park.
When Evil Dead set out to make "the most terrifying film you will ever experience," they landed pretty close to their target. I am not one to jump or get easily frightened during horror movies, but there were definitely times where I couldn't help to look away for a few seconds. There are some pretty disturbing images in the film, which is exactly what they were going for. As far as I could tell, there is not a whole lot of the fake looking CG that often ruins the affect of blood and gore in the genre. Everything looks pretty realistic, which adds to the terror of the movie-going experience.
The story of The Evil Dead is classic, and is revered by many as an all-time favorite in the horror genre. If it wasn't great, it wouldn't have been essentially remade twice now – first by Raimi in Evil Dead II and now by Fede Alvarez with Evil Dead. As we have learned from another Raimi film, "with great power comes great responsibility," and the retelling of a masterpiece is not to be taken lightly. Thankfully this re-imagining and new vision for the story was in good hands, as well as under the supervision of Sam Raimi and Bruce Campbell, and is good enough to earn a spot right next to the original.
Evil Dead is an A
P.S. Make sure not to leave the theater when the credits roll!