Eva Green Wants To Join Tim Burton's "Dark Shadows"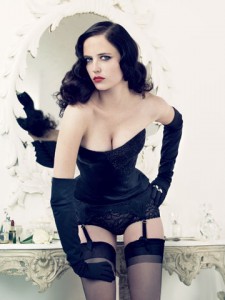 I am usually a huge fan of Tim Burton but lately not so much.  I really didn't care for Alice in Wonderland in any way and have no intention of wanting to re-watch it anytime soon.  Add to that, he is currently filming Frankenweenie which I think is a great short film, but I can't see as a feature length film.  So I am very excited for him to do something else, and Dark Shadows fills that void.
Dark Shadows currently only has one star signed on in frequent Burton collaborator Johnny Depp, but that is changing quickly.  Jackie Earle Haley and Bella Heathcote have recently entered into talks to co-star in the film.  Now, Bond girl Eva Green is looking at the female lead in the film.  Green hasn't headlined anything mainstream since she joined James Bond back in 2006.  I think this is the perfect project for her to jump at.
Dark Shadows is a gothic horror tale centering on the life of vampire Barnabas Collins and his run-ins with various monsters, witches, werewolves, and ghosts.  Burton is directing while Pride and Prejudice and Zombies author Seth Grahame-Smith is writing the screenplay.  The film is set for release sometime in 2012.  Check back here for more details.
Did you watch the original tv series?  Is this a project with potential?  Let us know in the comments below.