Ethan Hawke Joins Yaron Zilberman's Indie Drama "A Late Quartet"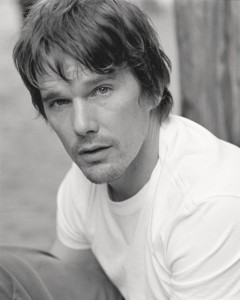 Ethan Hawke has signed on for a role in the indie drama, A Late Quartet, directed by Yaron Zilberman which has had a lot of industry buzz lately.
A Late Quartet follows a string ensemble that has been operating together for over twenty five years, and what happens when one of their members is diagnosed with Parkinson's Disease. According to the Variety article, Hawke's character has an affair with jogging partner, which was lead to by his desire for more solos. (I'm not sure how those two fit together.)
Despite the last bit about Hawke's character that makes absolutely no sense, the story sounds brilliant, if a bit depressing. It has to be heartbreaking for a musician to be debilitated by a disease which would keep them from playing their instrument.
Hawke has kept pretty busy over the past couple years, appearing in numerous films, as well as directing an Off-Broadway show, A Lie of the Mind.  In addition to this project he also just finished filming on The Woman in Fifth. He also has another upcoming play he is producing, as well a role in The Numbers Station.
What do you think of this project? Let us know in the comments!