Eric Church's "The Outsiders" Album Review
Very seldom is there an album that comes out that truly gets me excited.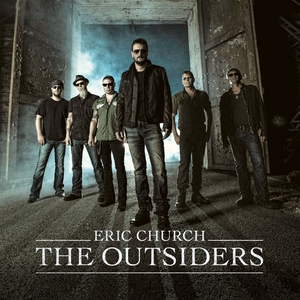 I guess Pearl Jam's recent album could count as one that I was stoked about, but that is about it. Enter Eric Church, country music's modern day outlaw. He's a man among boys in today's world of country music. While Luke Bryan and Jason Aldean are selling out arena's singing about beer drinking, riding trains and break-ups, Church is selling out his own concert's with songs about whiskey drinking, fighting, and smoking weed. Church's last album,"Chief," was a chart-topping success, selling millions, and making the 36-year old a country music star. After touring in support of the album for two-plus years, Church is back with "The Outsiders."
"The Outsiders" brings a little bit of everything to the table. If you're a rock fan who first discovered Church opening for Metallica, you will love the lead track, which is the title of the album. While the song feels like it was forced into the new album, it's a rousing country/rock piece that will surely be a crowd-pleaser at live shows.
Where "The Outsiders" succeeds is on tracks like "A Man who was Gonna Die Young" and "Cold One." On the first track, Church reflects on how he has outlived Hank Williams and Jesus regardless of the destructive path he has traveled. He attributes this to the love of a good woman, obviously his wife. Cold One" is a fun take on a break up where a girl took his beer. It's just plain fun.
Another solid tune on the record is "Like a Wrecking Ball," and don't confuse it with Miley Cyrus' song of the same name. Church convincingly speaks of rocking his lover like a wrecking ball in this tune.
Some of the other solid entries onto the album are "Roller Coaster Ride," "Talladega," "Dark Side," and album closer, "The Joint," which contrary to popular belief, is not about smoking.
My favorite song on the album is "Give me Back My Hometown." Much like his past hit "Springsteen," Church turns up the nostalgia on this track. Church sings of the break up with a lover, which haunts him, making it impossible to go back home. The video is almost as good as the song.
Overall, Eric Church's new album is a strong, early candidate for album of the year in country music. It's hard to imagine any of his competitors matching or creating something any better. In an industry that is filled with pop-country acts, Church proves with "The Outsiders" that country hasn't lost it's edge.
"The Outsiders" gets an A-.