Entire Cast of "Jersey Shore" Signed on for Third Season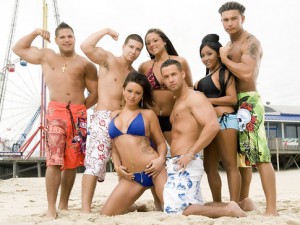 In a sure sign of the upcoming apocalypse the cast of MTV's Jersey Shore has been signed on for a third season.
"MTV is pleased that the Jersey Shore cast are returning to Seaside Heights to continue production on Season 3," the network said in a statement.
"Not only have they become a part of the MTV family, but fans worldwide have fallen in love with them. Stay tuned for Jersey Shore Season 2 on July 29th."
High profile cast members Snooki, JWoww, and The Situation already received raises from $10,000 per episode to $30,000 per episode from the first to second season, no word on if the stars of the show got their pay bumped again in the recent contract.
I can understand why MTV wants to continue, the show is cheap to produce, and it has decent ratings for an MTV show. What I can't understand is why people watch it. I have never seen a single episode, but I've seen enough clips to make me want to stab my eyes out with rusty pokers every time one is shown.
What do you think? Let us know in the comments!