"Spider-man" Director Sam Raimi Directing "Earp: Saints for Sinners"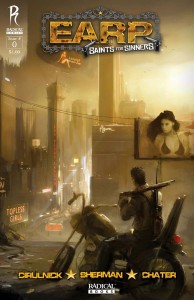 I know what some of you are thinking, "Oh great another Wyatt Earp movie." Only because that was one of the first things I thought as well. However, this is an updated Wyatt Earp tale that is set in the future. Combine this with Raimi's comic book sensibilities and you have a win-win situation on your hands.
The film is based off of a graphic novel of the same name by Radical Publishing. The film which is being developed at DreamWorks, and is being worked on by the property's original creator Matt Cirulnick who will be providing the first draft.
The updated version of the tale replaces Tombstone, Kansas for Las Vegas, Nevada in a dystopian like future. Earp is a famous lawman who decides to retire in Las Vegas, the last boomtown left is forced out of retirement when his brother is killed violently in a job gone wrong.
Sounds like an interesting update on the O.K. Corral shootout, and Raimi already has one western under his belt with 1995's The Quick and the Dead, so hopefully he can translate some of that project into an interesting futuristic setting.
What do you think? Let us know in the comments!