Eastwood's Biopic "J. Edgar" Loses Theron, Gains Westwick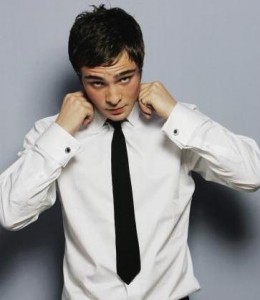 I finally caught Hereafter a couple of weeks ago, and I was a little disappointed.  I thought the acting was good, and Eastwood directs a good film.  But I was just a little bored and never really got into any of the characters.  Overall, I love the film's Eastwood puts out so I have been reading up on everything I can about his upcoming film J. Edgar.
A month ago I wrote an article announcing that The Social Network's Armie Hammer was in talks to co-star with DiCaprio and Theron.  Well now reports are that Theron was never actually serious about the project.  Instead, she is eyeing down the Alien prequel by Ridley Scott.  So who is Eastwood looking at for the part?  Evidently, Naomi Watts and Amy Adams are on a short list.
With every piece of bad news, there is always good news right around the corner.  Ed Westwick has just landed a supporting role in the film.  Westwick "will play a clean cut operative with writing skill. Once Hoover discovers he can write, he conscripts Agent Smith to write Hoover's biography, until Smith gets a little too close to the truth".  Is Westwick a good enough actor to hang with the likes of Armie Hammer, Leonardo DiCaprio, and Judy Dench?
What's your favorite Eastwood directed film?  Let us know in the comments below.