E3 2011: Nintendo Reveals New Console – Wii U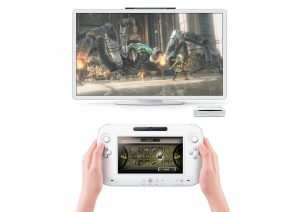 Let the umpteenth incarnation of the console wars begin! Nintendo has now fired a warning shot across the bows of Sony and Microsoft, and has loudly exclaimed "Come at me bro!".
Despite their current console being less than five years old, Nintendo has finally decided to make the jump into HD gaming with the Wii U. The new console will boast a multi-core IBM processor, 1080p visuals through HDMI, flash memory (expandable through SD cards and USB drives). Although, what seems to be the greatest jump of all is the new controller. Let's take a quick look at features boasted by the Wii U controller:
6.2″ touch screen controller with stylus
Resolution under 1280×720 and above 640×480.  (Full specs to be released later)
Motion controls
Front facing video camera (with video chat)
Built-in speakers w/ headphone jack
Wireless game capability
Pretty impressive, right? Ambitious? Certainly! What Nintendo has done is waited out the competition to a point where building an HD game console is affordable, and first went after the casual game market where sharp visuals aren't as much of a concern. Nintendo now has the tools to once again go after both portions of the market, and regain much of the user base they lost with the Gamecube.
The console itself looks impressive, and will probably outperform both the Xbox360 and PS3 on benchmark tests, but only due to their age. Will Nintendo be able to lure back a market that has so much hype laid in sandbox games and first person shooters? Only time will tell. However, it's nice to see them move the market forward.
What do you think? Let us know in the comments!