DVD Review — "The Help" Starring Emma Stone, Viola Davis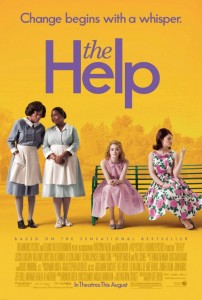 The Help was a film that I wanted to see as soon as the trailer popped up online.  Unfortunately, it was released at a time that was very busy for me personally.  I missed out on a lot of movies that I hope to be reviewing their DVDs in the next coming months.  I can now say that I have seen the film and it is every bit as good as I have heard.
I first want to say that I have never read the book by Kathryn Stockett.  I knew nothing about the film outside of what I had seen in the trailer.  I had read all about Viola Davis' performance and how she is a lock for an Oscar nomination.  As a result, I sat down on the couch with pretty high expectations.
The Help takes place in the 1960s in Jackson, Mississippi.  The story focuses on Aibileen Clark and Minny Jackson's relationship with Eugenia "Skeeter" Phelan.  Aibileen and Minny are "the help" for some rich socialites in town.  Skeeter decides that she is going to write about how these African-American women take care of these white children as if they were their own.
While watching the film, I was immediately captured by the performances of each and every actor in the film.  I can say without a doubt that this is the best ensemble performance of the year.  Not a single one does not bring their "A" game.  Octavia Spencer as Minny makes you feel just as her character as she conveys the anger, irritation, frustration, and distrust that she has developed over the many years of her employment.  Bryce Dallas Howard is great as the "perfect housewife" bitch that I just wanted to punch in the face.  Jessica Chastain plays a ditzy housewife who is too dumb to know any better.  I'm not sure if I loved watching her on screen more because the character is so dumb/funny or because she is so beautiful.  Maybe a little bit of both.
I could easily go on and on with each supporting performance, but this film is a showcase for Emma Stone and Viola Davis.  Davis has already proven that she is a heavy hitter.  She was deservedly nominated for nearly every award for her performance in 2008's Doubt.  I have faith she will see every award nomination for this performance as well.  It is hard not to get emotionally invested in her.  You understand the guilt and terror she has when talking with Skeeter.  She has already seen real heartbreak and is constantly thinking about the consequences of her actions.
Emma Stone turns in a performance that I wasn't sure she was capable of.  Stone changed my perception of her earlier this year with Crazy. Stupid. Love.  She was funny, sexy, and relatable.  I had certainly seen the funny and sexy side of her, but that was the first time I had seen some good serious work from her.  I think that performance was pale in comparison to this.  She turns in work here that can easily bolster an argument that, pending she chooses the right work, she will soon be nominated for her own Oscar.
As far as the DVD itself, I was disappointed at the lack of special features.  Two deleted scenes with introductions from director Tate Taylor and a music video from Mary J. Blige  is just not enough.  I want to see interviews with the actresses talking about their characters.  I want to see Taylor working behind the scenes with Stone and Davis on how to approach certain scenes.
I think the conversation to have on the film is not if it's good, but if it's one of the best pictures of the year.  I would certainly nominate the film for Best Picture.  It boasts the best ensemble performance of the year.  It's a story that will make you laugh, cry, and happy that you took the time to see it.  If you have not seen the film, I suggest you seek it out immediately.  It deserves all of the recognition that it has received and will receive in the next few months.