DVD Review: "Hugo"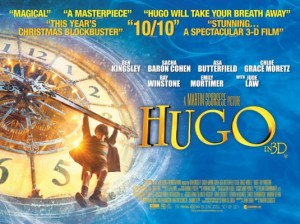 "Hugo" was my favorite film of last year.  I got to see it in 3D only once so I was anxious to see if the film would be just as beautiful on a much smaller screen in traditional 2D.  I am still in awe of it.  From a technical standpoint, it is without a doubt the best film of the year.  Its easy to argue my case since the film won 5 Academy Awards, all of which were in the technical category.  Part of the magic for me in seeing the film the first time was that I had absolutely no idea what the film was about other than a boy in a train station.  If you know nothing more about the film, I would suggest not reading this review and check the film out immediately.
Hugo Cabret is a young orphan who lives in  train station.  He manages all of the clocks, big and small, running through tunnels and little holes to get from one clock to another.  Hugo is also working on a mystery that he believes will reveal a message from his father.  Just before his father passed away, Hugo and Mr. Cabret were working on restoring an automaton, a robot/machine that can write a message.  Hugo is soon aided by Isabelle whose Godfather owns a toy shop in the station.  Hugo and Isabelle discover the missing piece needed to make the automaton work again.  The message is not from Mr. Cabret at all, but a drawing that sends the children on an adventure to discover Isabelle's Godfather is more than he seems.
As I said before, I loved this film because I had no idea who Isabelle's Godfather was.  It always seemed strange to me that Martin Scorsese would direct this kid's film after movies like "The Departed", "Goodfellas", and "Raging Bull".  I love movies so to discover that the film was partly about the life of one of the earliest fantasy/sci-fi film makers, Georges Melies, was a real treat for me.  And the trailers give you no indication of that unless you are really looking for it.  I watched the Oscars with some friends of mine who not quite into film as me (meaning they are not obsessed).  They had no idea what the movie was about and none of the clips really told them anything.  In a world of spoilers and the internet, it is always nice to have this sense of discovery in the theater.
I recently watched "Midnight in Paris" for the first time since May.  I didn't remember the film being as beautiful as it was.  The cinematography, lighting, set design all combined to make a world that I couldn't help but be in awe of.  "Hugo" is on a whole different level.  The city shots are incredible detailed and brimming with life.  The train station is filled with people and color and music that comes together beautifully.  It's just an unbeleievable film to watch, and I wish so badly that Scorsese had one the Oscar for Best Director.
My only complaint is a minor one for me.  The first half of the film focuses on Hugo and his world in the train station.  Running from the Inspector and being put to work by the toy shop owner.  He develops his friendship with Isabelle.  Then once the automaton is fixed, the film shifts to focus more on Georges Melies.  The audience is thrust into the magic he created on screen, his pain in going backrupt, and the restoration of film.  Of course this second half is why I love the film, but it feels slightly too disjointed to me watching it again.
Special Features
Shoot the Moon (The Making of Hugo) – Great but short documentary with Scorsese discussing his first adventure in the world of 3D and doing it right.  The actors talk about their excitement about working on a Scorsese picture.  The kids were especially in awe of how down to earth he was and how easy it is to work with him.  This could have been a two hour doc that I would have loved watching.  As it is, it feels a little too brief.  considering how much attention to detail was put into the film, they could have easily gone more in depth with the effects, the creation of the look, and piecing it all together
The Cinemagician, Georges Melies – While it seems like nothing to today's audiences, the effects that Melies used on screen were a game changer.  It's amazing that a man created over 500 films in a giant glass box.  A great look into the life of a man that I knew nothing about.  One of the film historians interviewed in the segment said it perfectly, "Even if you have never heard the name, most people have seen the iconic image of the rocket in the eye of the moon."  This held true for me.
The Mechanical Man at the Heart of Hugo – I had never heard of the word automaton before this film.  This feature talks to some automaton makers and historians that discuss the development of these unique machines.  What amazed me the most was that the automaton in the film actually draws that image of the rocket in the moon's eye.
Big Effects, Small Scale – This is he type of stuff I love to watch.  I feel like this DVD could have featured dozens of theses little features focusing on little details of the film.  This one focuses on the dream sequence train crash.  Amazing details goes into those miniatures for maybe 30 seconds of film.  It truly is remarkable.
Sacha Baron Cohen: A Role of a Lifetime – Miserable.  I wish cohen would stick to roles like this.  While "Borat" was okay, I hated "Bruno" and do not plan on seeing "The Dictator".  This is a dumb feature in which the whole cast and crew joke about how Cohen did whatever he wanted and told Scorsese what to do.  It would have been fine had they made the joke and then actually discussed working on the film.  But two or three minutes of "I'm funny and am joking about being controlling and demanding and everyone is in on the joke" is worthless to me.