Angelina Jolie's "Maleficent" May Have Found Its Sleeping Beauty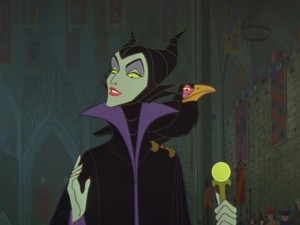 You can say the fad beginning.  And I don't like it one bit.
Tim Burton's "Alice in Wonderland" made $334 million.  Obviously, that kind of number is going to make studios turn their heads and look.  So now we have our recent fad of fairy tale stories retold.  Currently we have "Grimm" and "Once Upon A Time" on tv.  This year we get two Snow White tales in "Snow White and the Huntsman" and "Mirror, Mirror".  "Maleficent" has been a project starring Angelina Jolie that has been trying to get its feet off the ground.
Tim Burton was initially attached to direct, but soon backed off.  David Yates was then rumored.  Personnally, Yates would have peaked my interest on the film.  The last 4 Harry Potter films were the best in the series, and I believe Yates was a big part of that.  But Yates was only a rumor.  Earlier this year it was announced that Robert Stromberg, production designer on "Avatar" and "Alice in Wonderland", would direct the film.  Jolie has been interested in the part all along, and has even stated that this will be her next project.  So now we just need a protagonist to square off against the evil queen.
Enter Elle Fanning.  It is being reported that the young, talented actress is up for the role of Princess Aurora.  I think that this would be perfect casting.  She looks the part.  She has the acting chops as we have seen in "Super 8" and "Somewhere".  While I do not want the fairy tale fad to take off, I am intrigued by this potential combo of Fanning and Jolie in these roles.
What do you think of the fairy tale fad?  Are you excited about this project?  Let us know in the comments below.