DVD Picks of the Week – "The Town", "Despicable Me", and more
This is a huge week for DVD releases.  I guess all the studios want to get their titles out by Christmas.  Boost sales a little bit.  Normally I try to give a couple sentences on each film on why you should or shouldn't see it, but due to the number I am just gonna hit you with some quick facts.  So let's dive in.
Starring: Bradley Cooper, Liam Neeson, Jessica Biel
My Take:  There are better action titles available.  Move along.
Rottentomatoes: 47%
Starring:  Mark Wahlberg, Will Ferrell, Eva Mendes
My Take:  I thought it was hilarious and one of the better dumb comedies I have seen in awhile.
Rottentomatoes:  77%
Starring:  Emma Thompson, Maggie Gyllenhaal, Ralph Fiennes
My Take:  Having never seen the first one, I was pleasantly surprised.  A film that I think the whole family can enjoy.
Rottentomatoes:  78%
Starring:  Steve Carell, Jason Segel, Russell Brand
My Take:  A great year for animated films.  Not the best, but certainly not the worst.  Kids will love it and adults will tolerate it.
Rottentomatoes:  82%
Starring:  John C. Reilly, Marisa Tomei, Jonah Hill
My Take:   Funny at times, more awkward in others.  Not as good as I was hoping for.
Rottentomatoes:  81%
Starring:  Ben Affleck, Jeremy Renner, Rebecca Hall
My Take:  One of my top ten of the year.  I highly recommend you seeing this if you have yet to.
Rottentomatoes:  94%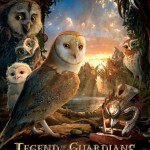 Title:  Legend of the Guardians: The Owls of Ga'hoole
Starring:  Jim Sturgess, Hugo Weaving, David Wenham
My Take:  Zack Snyder's first trip into animation is a fail.  It looks pretty good though visually.
Rottentomatoes:  50%
What DVDs will you be buying this week?  Which of these is your favorite?  Let us know in the comments below.