New "Rango" HD Trailer Starring Johnny Depp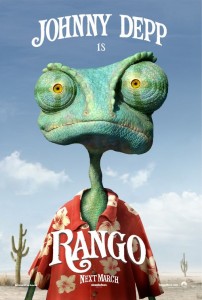 This trailer doesn't get me pumped to see this movie at all.  It certainly shows you much more of the story than the first teaser, but I'm not sure that even Johnny Depp can get me in the theater for it.  But Tangled also had awful trailers, and I absolutely loved that film.  Anything is possible.
Synopsis: A chameleon that aspires to be a swashbuckling hero finds himself in a Western town plagued by bandits and is forced to literally play the role in order to protect it.
Starring: Johnny Depp, Alanna Ubach, Abigail Breslin, Isla Fisher, Alfred Molina
Directed by: Gore Verbinski
Produced by: Tim Headington, Graham King, Gore Verbinski
Release Date: March 4, 2011
[hdplay id=234 width=595 height=375]