DVD Picks of the Week – "Knight and Day", "The Sorcerer's Apprentice", and more
Knight and Day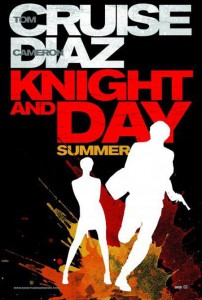 A woman is caught between a covert agent and those he claims set him up. As their globetrotting adventure erupts into a maze of double-crosses, close escapes, false identities, and head-spinning romantic snafus, they come to realize that all they can count on is each other.  I am sure most of you have seen the numerous commercials that attacked your t.v. last summer when this was getting released.  Now that your t.v. has been able to recover from that onslaught, a second seige has hit due to the DVD.  I actually did enjoy this movie.  I think it is what a summer film should be.  Despite my dislike for him off camera, Cruise carries this film quite well and certainly knows how to play the character.  This is the first film I have enjoyed seeing Cameron Diaz in for nearly five years.  Check this out if your an action fan or just want to escape for two hours.
Buy "Knight and Day" on Three-Disc Blu-ray/DVD Combo+ Digital Copy Combo Pack for only $19.99 (50% Off)
Going the Distance
Erin and Garrett set out to have a romantic summer fling in New York City, but when Erin heads home to San Francisco, neither is sure they want to end it. With a lot of texting, sexting and late-night phone calls, they might actually go the distance.  I haven't seen this film mainly because I am not a fan of Drew Barrymore, partially because I think it looks awful.  But don't just base your opinion on my opinion.  53% of critics liked it on rottentomatoes.com so you might be in that half of the community that likes it.
Buy "Going the Distance" on Blu-ray/DVD Combo + Digital Copy Combo Pack for only $24.99 (31% Off)
The Sorcerer's Apprentice
Balthazar Blake is a master sorcerer in modern-day Manhattan trying to defend the city from his arch-nemesis, Maxim Horvath. Balthazar can't do it alone, so he recruits Dave Stutler, a seemingly average guy who demonstrates hidden potential, as his reluctant protege. The sorcerer gives his unwilling accomplice a crash course in the art and science of magic, and together, these unlikely partners work to stop the forces of darkness. It'll take all the courage Dave can muster to survive his training, save the city and get the girl as he becomes The Sorceror's Apprentice.  Jay Baruchel has had a breakout 2010 finally getting some starring roles.  How to Train Your Dragon. She's Out of My League.  The Sorcerer's Apprentice.  Well 2 out of 3 ain't bad.  The film just didn't work for me,  but I'm sure kids would be much more taken with the visuals of it all.
Buy "The Sorcerer's Apprentice" on Three-Disc Blu-ray/DVD Combo+Digital Copy Combo Pack for only $26.99 (40% Off)
Vampires Suck
Becca, an anxious, non-vampire teen, is torn between two boys. Before she can choose, Becca must get around her controlling father, who embarrasses Becca by treating her like a child. Meanwhile, Becca's friends contend with their own romantic issues — all of which collide at the prom.  Well it did open number two it's opening weekend.  That was about ten spots higher than I was expecting.
Buy "Vampires Suck" on Blu-ray for only $22.99 (43% Off) or DVD for only $16.49 (45% Off).
Waking Sleeping Beauty
By the mid-1980s, the fabled animation studios of Walt Disney had fallen on hard times. The artists were polarized between newcomers hungry to innovate and old timers not yet ready to relinquish control. The conditions produced a series of box office flops and pessimistic forecasts. Maybe the best days of animation were over. Maybe the public didn't care. Only a miracle or a magic spell could produce a happy ending. 'Waking Sleeping Beauty' is no fairy tale. It's the true story of how Disney regained its magic with hits like The Little Mermaid, Beauty and the Beast, Aladdin, and The Lion King over a 10-year period.  When I saw this trailer, I knew I had to see it.  I love animation.  I love Disney musical.  I love seeing this creative process.  And the trailer gives us a glimpse of a young Tim Burton.  I am very excited to watch this.
Buy "Waking Sleeping Beauty" on DVD for only $19.99 (33% Off)