Dustin Hoffman Joins HBO's "Luck"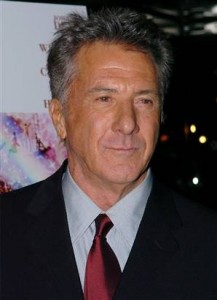 Dustin Hoffman is the latest respected thespian who has gone over to the small screen. Hoffman is joining the cast of Luck HBO's new horse racing drama. The actor who got his career started in film, and has won an Oscar for his performances, is joining his first TV series ever.

The project is described as a provocative look at the worlds of horse racing and gambling told through a diverse group of characters surrounding a racetrack.
It centers on an intelligent, intuitive tough man (Hoffman) who always has been involved with gambling, from bookmaking and money laundering to casino operations.
Recently released from prison after four years, he teams with Gus Economou (Dennis Farina), his longtime chauffeur and muscle, to craft a complex plan involving the track. They recruit Turo Escalante (John Ortiz), a successful trainer with a sordid reputation.
Michael Mann is directing the pilot, and will have a hand throughout the series. While this is Hoffman's first jump into television, he stayed close to a cinematic experience with HBO's lineup which doesn't play out like normal television. HBO's lineup over the next few years is looking very strong, as they keep adding more and more big names to their network.