"Curious George 2" is out on DVD! Enter to Win a Copy Today!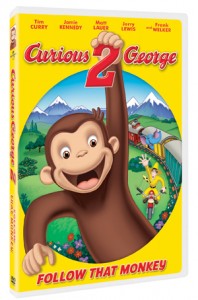 Universal City, California (January 12, 2010) – Buckle up for an unforgettable experience when Curious George and his friends embark on a hilarious madcap cross country adventure in Curious George 2: Follow That Monkey, an all-new feature-length animated film available only on DVD on March 2, 2010 from Universal Studios Home Entertainment. Filled with the delightful antics, gentle humor and heartfelt emotion that have captivated the hearts of families around the world, Curious George 2: Follow That Monkey includes a menagerie of entertaining bonus features: Two never-before-seen shows from the all-new TV season on PBS that does not air until Fall 2010, a brand new interactive game, an exclusive music video and more. Curious George 2: Follow That Monkey is priced at $19.95 SRP.
As an added savings value to consumers for a limited time, a $5 grocery cash check card mail-in offer will be included in DVD copies of Curious George 2: Follow That Monkey and the purchase of the DVD includes an instant $3 savings towards any Curious George catalog, TV or DVD title purchased in tandem.
In this sidesplittingly funny and heartwarming sequel to the hit 2006 animated feature, George sets out on a coast-to-coast journey to reunite Kayla, a homesick elephant, with her family. Curious George 2: Follow That Monkey features all-star voice talent including Tim Curry ("The Adventures of Jimmy Neutron: Boy Genius," Home Alone 2: Lost in New York), Jamie Kennedy (Kickin' It Old School, Malibu's Most Wanted), Matt Lauer ("Today Show"), Frank Welker ("Curious George" TV series, "Futurama,") and comedy legend Jerry Lewis, plus music from legendary songwriter Brian Wilson of the Beach Boys.
BONUS FEATURES
Two Never Before Seen Bonus Shows from the all-new TV season! See the premiere episode 6 months before it airs!
Curious George's Cross Country Caper Game – It's more fun than a barrel of you-know-what when George and Kayla go on the run with security specialist Marcus Wolfe hot on their trail! Exciting puzzles lead the way from New York to California so Kayla can visit her brother and sister. But be careful—a wrong answer could bring the Wolfe right to their door!
Hold On, Here We Go – Exclusive Music Video
Coloring Pages and Wallpapers
Children and parents everywhere have delighted in Curious George's adventures for nearly seven decades. Created by Margret and H.A. Rey in 1941, Curious George has provided the inspiration for a flourishing line of educational and entertaining properties that includes "Curious George and the Golden Meatball," an original live musical stage show currently touring the U.S., as well as the popular and critically acclaimed PBS children's program, a line of original books, interactive games and toys, and an interactive attraction at the Universal Hollywood theme park.
SYNOPSIS
The world's most beloved and inquisitive monkey is back in Curious George 2: Follow That Monkey, the fun-filled sequel to the hit animated movie. Join Curious George and The Man with the Yellow Hat as they set out on a madcap cross-country adventure to reunite Kayla, a homesick elephant, with her family. This unlikely trio faces all types of comic calamities and colorful characters and in the end, learn that with family, friends and determination, you can achieve anything. Featuring the voices of Tim Curry, Matt Lauer, Jamie Kennedy and Jerry Lewis, Curious George 2: Follow That Monkey, "proves that family, friends – and curiosity – are number one." (Francine Brokaw, Los Angeles Family Magazine)
Enter to win a FREE copy today!
All you have to do is register for my.reviewstl.com and post a comment about why you want to win! Winners will be randomly drawn, and notified via e-mail.