Disney Picks Up Terry Rossio to Write Fifth "Pirates" Film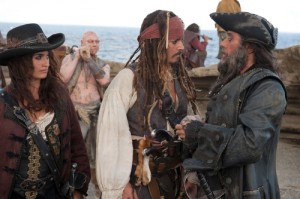 Disney is still obviously head over heels for its Pirates of the Caribbean franchise. The fourth film in the series has yet to come out, and they have already hired the writer of the previous four films, Terry Rossio, for a fifth script.  Normally Rossio works with writing partner Ted Elliot, but as his name was not announced with Rossio's, it looks like he might be going solo this time around.
Disney is also in talks to reaccquire director Rob Marshall to come back for a fifth film, and the star of the series, Johnny Depp.  Depp has said in previous interviews that, "As long as we can put all the puzzle pieces together, I would most definitely consider it."
Moves like this make you wonder if Marshall and crew have stepped up the quality of production, and that Disney is anticipating demand for yet another sequel. I myself have yet to see the third film after being so disappointed with the second film, so I'm not an authority on the Pirates franchise. However, I don't see it keeping its demand for this long. As a film that was originally a one shot story, it has really found a way to get some legs underneath it. Oh well, here's hoping for a return to form with On Stranger Tides, which hits theaters this summer.
What do you think? Let us know in the comments!