"Die Hard" Director John McTiernan Gets 1-Year Prison Sentence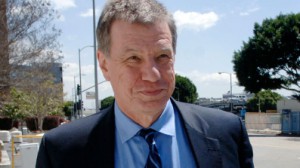 Legendary action director John McTiernan, famous for directing films like Die Hard, Predators, and The Hunt for Red October, has been sentenced to prison for a year for his part in the Anthony Pellicano wire tapping case.
McTiernan hired private investigator, Pellicano, who used illegal wiretaps to gather information, which wouldn't have caught McTiernan much of a sentence. However, McTiernan lied about his involvement when questioned, and that is one of the major reasons for his current tenure in prison.
This comes as pretty bad timing, as McTiernan was working on his first feature since 2003's John Travolta vehicle Basic.  Currently his next film titled, The Camel Wars, is still listed as "In Production" on IMDB.com. So much for a comeback?
Earlier this year, my partner on the site, Kevin, was lamenting that current action films don't really standup to the action films of the 80s like Predators and Die Hard. Well, now he knows why, they are all too busy illegally wiretapping people, instead of filming the next generation of classic action films.
What do you think? Let us know in the comments!