The Decade's Best: 2000 to 2009, Films #100-66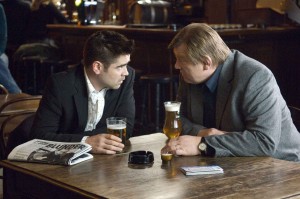 Let it be know that this list is by no means definitive nor correct, just one person's opinion. The reality of putting together something like this is borderline stupid, put I am going to try none the less. You see, this list isn't a statement of the decade's most finely crafted films, nor the most re-watchable, and not even just my favorites, but in actuality is some sort of amalgamation of the three. Everyone has different views, opinions, and ideas on what makes a film great; hell the mood you are in will alter your perception of a film. So don't sit there thinking I am of the belief that this list is the end all of lists, please agree and disagree, and I hope above all this gets you thinking about film and what makes it great.
Thanks,
Zac
On With The List!!!
100. In Bruges
One of the finer directorial debuts of the decade, Martin McDonagh's crime tale is an odd look into the psyche of a hit man and features three great performances from Colin Farrell, Brendan Gleeson, and Ralph Fiennes.  After Farrell and Gleeson are forced into hiding after a botched hit the two try maintain sanity while forced to stay in the tourist hot spot Bruges.  The town is a peaceful haven for one and is driving the other insane and before they know it their boss is forced down to straighten the two out and their lives might be on the line.  The film is not only full of twists and turns but is downright hilarious at times and features an A+ performance from Farrell.  The humor is rather colorful, the violence brutal, and a trio of characters that are all incredibly interesting and engaging.  An odd film to be sure but one that has grown with age and will find its way up this list as time goes on I imagine.
99. The King of Kong: A Fistful of Quarters
This amazing documentary is a hilarious and kind of sad look into the world of competitive video gaming.  On the surface it seems like we are just looking at a couple of guys playing Donkey Kong, but the film quickly becomes a battle of good vs. evil, a look in what obsession can do to a man, and a look into the weird sub culture that surrounds a group of individuals that might take video gaming a bit to seriously.  The film's hero is Steve Wiebe who is a down on his luck individual who turns to Donkey Kong for some solace and it ends up getting him involved with our villain Billy Mitchell.  A life long competitive video gamer, Mitchell, is just an odd, conniving, and slippery man who does all of this ill will over his video game score.  Mitchell is almost to big to believe and has to be seen to really grasp the insanity these games cause some people.  My favorite doc of the decade.
98. Monsters, Inc.
Pixar's journey into the other side of your closet seems like a unlikely source material for a "kids" movie but the world is filled with only a couple scary monsters and a cast of loveable characters that only scare for a living.  Not to mention, Boo, the young girl who wanders her way into the monsters world, a big no, no by the way, is quite possibly one of the cutest character ever put on screen.  The film is quite the adventure as our two leads Mike and Sully try and hide Boo from the authorities.  Pixar's world they created is full of clever jokes surrounding monsters and the presumed life of monsters feels fresh and genuine.  Not to mention the brilliant logic surrounding the power for the world being produced by screams and the even smarter twist that fixes the monsters energy crisis in the end.  Some might find this flick a bit cute and cuddly, but under the surface this film is one of the smarter animation entries of the decade.
97. Death at a Funeral
The brilliant British comedy has a huge ensemble and a ton of plot threads that all pay off with hilarity.  I will not spoil the plot as the less you know the better but Frank Oz is not afraid to be quite absurd and brash in his humor and the film goes in a million different places.  But the fact that is contained to one event keeps it from being jarring and makes it easy to follow some of the insanity that unfolds.  Outside the big jokes and sight gags there are also a variety of interesting and compassionate characters with everyone knocking it out of the park.  The film is full of twists and turns you never see coming and some how tops itself over and over again. It's getting remade over here stateside and the source material was so good the film seems to be almost a literal scene by scene recreation and even carries over the fantastic Peter Dinklage; seek out the original I guarantee laughs.
96. The Darjeeling Limited
Wes Anderson's Indian adventure is a unique look into brotherhood, self-discovery, and trying to reconcile family before it is to late.  If you don't like Anderson's world you aren't going to find much different here, though the film is a beautiful look at India which serves as almost a character all on it's own.  Wilson, Brody, and Schwartzman work off one another with ease and are a lot of fun as they try and bond again but secrets and lies always keep them a bit a part.  The soundtrack is also incredible with Anderson mixing native scores and music with a few British pop songs, with The Kinks songs being some of my favorite queues in the decade.  The entire Darjeeling experience also includes a short that introduced Schwartzman's character and gives a background to his characters actions in the film revolving around an ex (Natalie Portman).  Start to finish it's all great stuff.
95. Kung Fu Panda
DreamWorks's most original film to date creates a whole world that begs for further inspection in sequels, but the original stands on its own for being funny, action packed, and has a band of likeable characters to get behind.  Following the unlikely rise of Po the Panda from noodle maker to martial arts expert the themes may be a tad bit conventional but the film is just to much damn fun not to fall in love with everyone involved.  The fight scenes in the film are also some of the best put on film this decade full of elaborate sets and fast paced fisticuffs they are a sight to be seen.  In fact, the escape of Tai Lung is quite possibly my favorite scene of the decade and am blown away by the inventiveness and epic nature of the sequence that is not only thrilling but beautiful to look at.  I can't wait for the sequels and hopefully they don't water things down and get to the bottom of Poe's mysterious past.
94. American Splendor
Another fantastic comic adaptation for the decade, this time of the underground cult series American Splendor created and starring the real life exploits of Harvey Pekar.  Paul Giamatti is wonderful as the stories unlikely hero that is as cranky and easily bothered as one could possibly imagine.  The character in fact is seemingly a work of fiction and you wouldn't believe he was real if they didn't interview the real Pekar on screen.  The films style is mostly a standard biopic narrative while occasionally cutting away to interviews with the real life participants from the books and film.  The film also wisely uses the real footage of Pekar on Letterman and it lends itself to the picture to make the film feel even more authentic and like we are watching the real Pekar and friends.  The books are as honest as a comic book can get and the film does a great job of carrying that torch to the screen.
93. Into the Wild
Sean Penn's beautiful biopic of the young Christopher McCandless is an intimate look into the life of a young mind and serves as an excellent road film full of wonderfully and interesting characters.  After graduating from Emory McCandless decides to ditch all his worldly possessions and hits the open road living his life hitchhiking and with many interesting characters along the way.  Emile Hirsch gives his best performance yet as the nomad McCandless and the rest of the cast is full of wonderful actors in smaller roles.  Kristen Stewart is great as a lustful youngster he encounters and Catherine Keener providing a motherly figure that McCandless wish he always had.  But it's Penn direction and camera that almost steal the show as the film is like watching a nature film at times with beautiful shots of the wildlife of our country that serves as a great portrait of this nations beauty over this ultimately somber tale.
92. Gone Baby Gone
Ben Affleck's directorial debut is a fantastic detective story that takes turns you don't see coming and isn't afraid to take us to places we don't want to go.  Casey Affleck continued to show he is the real deal here after his amazing work in Jesse James, and his older brother put a hell of a cast around him.  Though heavy weights like Morgan Freeman and Ed Harris are all outshined by Amy Ryan who is phenomenal as the abducted daughters mother.  The film's characters' moral compass are also always hard to read and bring in an interesting dynamic to the picture that you never quite know who to trust.  One sequence in this film still sticks with me and that is the haunting and intense siege of a crack house with Affleck and Harris that will push you into the back of your seat and upset you in the end.  A great cop film and directorial debut.
91. Black Hawk Down
The incredible true story about the search and rescue of a pair of downed Black Hawks in Mogadishu, Somalia after an apparent routine mission goes horribly wrong.  The film is action packed and an incredible war film that might never be topped for the sheer claustrophobic and feeling like your there sensation you get while watching this film.  Full of a stellar all-star cast that you don't really pick up on till the second or third time through, the film just gets better as you can step back on subsequent viewings and get to know these characters instead of being sucked into the action.  The film was a great one two for Ridley Scott following Gladiator and was possibly the most impressive work by a director in back to back films released in subsequent years over the decade.  Intense, real to life, and a never relenting pace this is the pinnacle for modern warfare action films.
90. Casino Royale/Quantum of Solace
The revitalization of the Bond franchise would have been the best move for a long running series if it wasn't for Nolan's bat movies, but it nonetheless has paid off in spades.  The newest Bond is arguably the best in Daniel Craig who brings a brutality and reality to the role that makes these films more believable and exciting.  Doing away with everything the franchise is known for couldn't have worked any better and while they can thank the Bourne films for moving them in this new direction, they are quickly separating themselves from that series and blazing their own path.  After Solace you can tell the storytellers have a clear path they want to take Bond on and I like the way they are heading.  The tone got pitch black in Solace and while I imagine things might lighten up in the next act I think and hope we have seen the last of the "fun" bond movies, but this new animal is more fun.
89. (500) Days of Summer
An unconventional love story told out of sync and through the eyes of the boy, Marc Webb's (500) Days of Summer is one the most honest takes on love to come around in a long time.  Anchored by its two phenomenal lead actors, Zooey Deschanel and Joseph Gordon-Levitt charm the pants off us and each other as we find ourselves falling for these characters.  The film itself is full of style and a couple of the more memorable sequences from its respectful calendar year, the most memorable being the incredible reality vs. expectations scene.  Seeing these two lovers at all levels of their relationship almost simultaneously provides for a fresh take on the genre that we haven't seen since another film that will pop up later on in this list.  Unique and refreshing you must always remind yourself, this isn't a love story, it's a story about love.
88. Let the Right One In
This Swedish import is the best vampire movie of the decade and is a wonderfully original take on the genre.  Following the relationship between a young boy named Oskar and a "young" vampire named Eli the two begin to form a bond and help each other cope with their situation.  On a first viewing the film is a cool and interesting take on the genre playing it young seeing this world through children's eyes, but on a second look the film carries a lot more weight.  The layers to the film are impressive and while it is a fairly low budget affair the film still has plenty of great vampire effects and moments.  The film also has some excellent humor inserted into it and works quite well as a horror film as well.  A rich and unusual tale with two interesting lead characters that you can't help but get behind and a finale that will blow you away.
87. Shrek
Flipping fairy tale conventions on their heads, when Shrek burst on to the scene it was fresh, original, and extremely funny.  Now an unoriginal one trick franchise, that doesn't take away from the brilliance and bliss this film brought me when it was released in theaters and completely blindsided me.  Watching this for the first time it remains one of the top 5 hardest I have laughed in a theater that I can remember from nearly start to finish.  Everything clicked, everything worked, the nostalgia was right up my ally as a Disney kid growing up and the wit behind the twisting of the classic fairy tale was just the breath of fresh air the animation form needed.  While DreamWorks has yet to produce something of this quality since, came close with Kung Fu Panda, this is a tough bar to top, if only they came closer more often.
86. Watchmen
Zack Snyder took the unfilmable and most heralded graphic novel of all time and made the best possible Watchmen movie one could hope for.  From Dr. Manhattan, to the story's structure, to the look of the novel, Snyder nailed it and may have even improved upon an ending that didn't quite make much sense in it's original form.  Snyder got fantastic work from a number of his stars with his weakest links not being anything less than average, but more than adequate for their parts.  A thick and layered film that gets better with age, the film is endlessly rewatchable and will wow you with its direct and engaging twists on the superhero genre.  As much as a reaction to the proceeding comic book films as the novel was to its predecessors the film is the anti-superhero film that looks into the minds of these people more than any other film from the genre.  A masterpiece of the genre rivaled by few.
85.  Observe and Report
Jody Hill's second feature is a dark and hilarious send up of the ridiculousness of action heroes and features one of my favorite sidekicks ever.  Michael Peña's Dennis has me rolling every time he opens his mouth and is just one of the oddest and funniest supporting characters in some time.  Add to this the sheer balls the film has to be both in your face and over the top with its language and material and you have one of the bravest comedies to come along in ages.  There is nothing conventional about the picture and the way it plays with things like voiceovers, fight scenes, and the mother son relationship are really quite brilliant.  Add all of this to the fact that the film gets funnier every time I see it and you have everything you can ask for in a comedy.  Plus, the funniest and most over the top use of male nudity for the decade,  I laughed for days.
84. Where the Wild Things Are
Spike Jonze's long gestating adaptation of the beloved children's classic is a trip into your childhood that is full of adventure, the things that scared us, and sadness and it rocked me hard the first time I saw it.  Sold as a fun and happy movie playing with Wild Things, I found my self really upset and emotionally wounded afterward and it was one of the most affecting films of the decade.  The Wild Things themselves are incredibly realized from looks to their respective voice actors and you fully buy into the fact that these guys are running around this lost island.  Max Records is also a true find as Max and I am really excited to see what he does if he continues to pursue acting as he gets older.  Jonze deserves the lion's share of praise though as he wasn't afraid to make something both challenging and different with this "children's" film for the child in all of us.
83. Marie Antoinette
Sofia Coppola successfully blends period drama with modern sensibilities and 80 pop music to make French history both fun and exciting.  It served as not only a breath of fresh air to the costume drama genre but the biopic in general giving us an honest look into the subjects life and making it entertaining filmmaking as well.  Kirsten Dunst is great as the infamous queen with Jason Schwartzman capturing the silliness of royalty and the awkwardness of arranged marriages in both a honest and humorous way.  But Coppola's direction and use of music is what really stood out for me in this picture which arrested me with every frame and features one of my favorite musical cues of the decade with Hong Kong Garden blaring through the screen as we are introduced to a masquerade ball.  A truly energetic blend of history and modern filmmaking.
82. District 9
Neil Blomkamp's original and awesome sci-fi masterpiece is a perfect blend of drama, romance, commentary, sci-fi, and action that losses you in it's world and you never want to leave.  Sharlto Copley's Wikus Van De Merwe is the most unlikely of heroes and a character that goes through such a reformation that you can't help but get behind the character and praise the actor.  Obviously influenced by the South African apartheid, the film puts these stranded aliens into the role of the mis-treated in Johannesburg and serves as an excellent commentary on the treatment of those that are different.  The film is also surprisingly affective as a family drama, both human and alien, and will have you rooting for Christopher Johnson and son before you know it.  The action is also top notch in the picture which is a visual feast and made for only a mind boggling 30 million dollars.
81. No Country for Old Men
The Coen Brothers return to their masterful form was an A++ picture for 80% of the film until that one moment and left me scratching my head with the intent of the material.  The film is not ruined or spoiled by its turn, it just defies viewers expectations in such a harsh and dramatic way that you are left shell shocked by the events that transpire.  Add to this the allegory of the final scenes with Tommy Lee Jones and you have your self a taught thriller that turns way to heady in too quick a time.  Now they last 1/5 of this film has certainly grown on me as time has gone on, and I appreciate the Coen's for sticking to their narrative guns and not succumbing into a Hollywood ending, but that doesn't mean that their still isn't a part of me that feels absolutely robbed of a showdown I never get.  This film will always be remembered though for Javier Bardem's Anton Chigurh, the decades best villain.
80. Oldboy
This revenge epic from Chan Wook-Park features arguably the best fight scene of the decade and while the plot may be a tad too convoluted, following around Oh Dae-su is just too fun and interesting to admonish the film for its elaborately plotted ending.  The detective aspect of the film mixed with the immediate mystery surrounding Oh Dae-su is enthralling and you can't help but want to try and figure out what happened to this man and why.  Imprisoned for years with no reasoning or explanation why, Oh Dae-su is released with the task of finding out why he was imprisoned.  It is a brilliant premise that pays off in spades as he unleashes carnage upon all comers and takes all of the pent up rage and frustration he has obtained through imprisonment and puts it into finding out why he was robbed of years from his life and family.  A fantastic film.
79. The Constant Gardner
Fernando Meirelles first English language film took us deep into the conspiracy surrounding pharmaceutical companies in Africa and their use of the native population in testing and treating the people.  Following Ralph Fiennes who's wife is believed to have been murdered for what she has uncovered, the film moves between his pursuits and their past life with ease and not only builds us with a resounding emotional connection with the two but a thrilling adventure Fiennes is set upon to uncover the truth.  This is one of those films that is probably unfortunately steeped in more reality than we would like to believe and is an effective cautionary tale to the lengths of corruption some corporations will go.  Not to mention it is another visually arresting film from Meirelles and features two amazing turns by its stars Fiennes and Rachel Weisz who deservingly was praised for her haunting role.
78. Big Fish
Tim Burton's fable is full of imagination and wonderfully realized world that is a joy to dive into and a place we can feel at home at even if it might be a bit too tall of a tale.  A compelling family drama also unfolds before our eyes as we flashback and forth between our heroes dying days and his one last recount of his adventurous life that may or may not be true.  Full of great actors doing great work, there is a lot to love in this picture and its an easy world to get lost in.  The fantasy of it all feel real and this is one of Burton's most reserved films and a welcome change of pace from his usual darker material.  Not to say that this film doesn't get a bit twisted at times, it just is noticeably a brighter and warmer film than most of Burton's recent work and it is nice to see his imagination let loose in a world that isn't quite so dark.  One of the finer fairy tales of the decade.
77. The Diving Bell and the Butterfly
Julian Schnabel's biopic of Jean-Dominique Bauby's incredible story and life post-stroke and in a state of "locked-in" syndrome is both amazing filmmaking and a harrowing story of perseverance.  We spend a large portion of the film in Bauby's shoes and view the world through his eyes as he is unable to move or speak and can only communicate through a speech therapy method developed through blinking his one good eye.  It's amazing to watch him progress through his condition and we get to look back through his life as he writes a book about his past and current situation.  Schnabel's direction is superb and they are endlessly inventive with putting us in Bauby's shoes and creating an emotional response from us by trying to get us as close to his condition as possible as a viewer.  An incredible story and inventive filmmaking make this French import one not to be missed.
76. A History of Violence
This startling and fast paced look into the crime world comes from the most unlikely of angles and allows for a wonderful performance from Viggo Mortensen as Tom that allowed him to show a ton of range and show mainstream audiences that have now heard of him due to LOTR that he is more than just a lonely ranger from the north. Told in three very distinct acts, the films violence is few and far between but incredibly affecting when it shows up.  Not to mention the evolution of Tom over the course of the picture that is one of the more subtle transformations of the decade until that insane last sequence.  Throw in some great bad guys and a mysterious hero and you have some classic stuff.  The final shot of the film causes much distress for a lot of people as well it seems and all I can say to you is to ask yourself, what do you say in that situation?  Nothing, and that is what makes that final moment perfect.
75. Pan's Labyrinth
Guillermo Del Toro's historical fantasy is a wonderful trip into a child's imagination that is perfectly juxtaposed to violent and troubling situation on a small farm during the Spanish Civil War of 1944.  The fantasy world is wholly original and full of fascinating creatures as our heroine, Ofeila, travels back and forth between worlds.  The real life situation unfolding is just as compelling and terrifying as the step father from hell plays an excellent villain to both Ofeila and the rebels rousing against his army.  Brutally violent and often disturbing, the film blends historical drama, fantasy, and horror that Del Toro guides with ease into a beautiful film that is hard to forget.  Dark fantasy films tend to be the best and this can go toe to toe in just about any discussion if one is analyzing the best fantasy pictures of the decade.  Don't let the subtitles and content scare you, this film is Del Toro's masterwork.
74. Inglourious Basterds
Quentin Tarantino's WWII epic is not the film he promised for all those ears but is a triumph nonetheless and is likely to climb the ranks of this list as the years go on.  A five chapter film that is mostly a series of conversations and not the action packed spectacle the trailers were selling, it is expertly written and acted and features direction that stacks up against anything else in Tarantino's repertoire.  It is astonishing that the man continues to create such vivid and entertaining products every time out and I hope the man never fails.  The stars of each of these chapters are all phenomenal, Brad Pitt's Aldo Raine is endlessly quotable, Mélanie Laurent's Shoshanna is a heroine for the ages, Michael Fassbender is a star in the making, and Christopher Waltz is worthy of all of his praise; see it.
73. Shaun of the Dead
Edgar Wright, Simon Pegg, and Nick Frost team up to create a romantic comedy, with zombies, that successfully mixes homage with parody of the horror/zombie genre and is one of the most fun films of the decade.  Full of brilliant humor, plenty of scares, and style to spare, the film breezes along and never wastes a moment to throw in something worth paying attention to.  Full of pop culture and film references it rewards multiple viewings as you find all the hidden gems in the world.  The film also solidified the above trio as bonafied comic geniuses and has allowed them to not only be noticed by other filmmakers but to continue to work together and create future products together.  A breath of fresh air to the horror and comedy genres, the film will go down as one of the funniest horror films of all time and be remembered for delivering such comedic talents to our screens.
72. The Wrestler
Mickey Rourke and Darren Aronofsky take us on a gritty and heart wrenching trip into the world of a lifetime professional wrestler that decides to reevaluate his life after it is almost taken away.  Rourke's performance never once falters and is about as authentic as one can get.  He throws himself over to the part and dives head first into the ring and emotions surrounding "The Ram's" life.  Marisa Tomei goes toe to toe with Rourke and gives one of her finer performances as well and isn't too bad on the eyes to boot.  The film also contains one of the best made for a movie songs in Springsteen's "The Wrestler" that is haunting and beautiful as the credits role.  Top notch performances, an inside look at the world of professional wrestling, an incredible hardcore match, humor, sweetness, and great human drama make this film special and one of the finer sports films of the decade.
71. The Life Aquatic with Steve Zissou
Wes Anderson's "action" film is a silly send up of the genre that fits right into his wonderful world and features a wonderful lead performance by the always great Bill Murray.  Featuring stop motion animation from Henry Selick, a brilliant ensemble, and plenty of adventure to spare, the film takes us all across Europe and gives us drama worth carrying about as a bunch of weird personalities and situations collide.  Add to this another great score from Mark Mothersbaugh, the awesome cross section shots and scenes in the ship, and a plot that will shock and surprise you all the way till the end and you have a genre twisting film that feels incredibly unique.  This is probably the most action packed film we will ever get from Anderson, but that is fine by me as this is such an original and standout work that is sadly misunderstood and under appreciated.
70. The New World
Terrence Malick's John Smith-Pocahontas tale takes out all the romanticizing and gives us a beautiful look at the discovery of America and the interaction of the natives and the explorers that is like watching a moving painting.  The film is deliberately paced and will get lost in the beauty of the untouched country but the film blows you away with the opening and never lets you go with its beauty as the images cast a spell over you.  The dialogue is light, but the actors involved all do fine work even with their limited dialogue to work with.  The third act might come off as a bit repetitive as we transition to John Rolfe, but the story paves it's own path soon enough and we are taken further on this epic journey than we expect as the film crosses the Atlantic and follow our heroine back to the old world.  A piece of cinematic art that engrosses the viewer and should not be missed.
69. A Beautiful Mind
Possibly Russell Crowe's finest work of the decade, which is certainly saying something, the film is a fascinating look into the mind of an individual that has lost touch with reality.  The twist in the film is brilliant but is not necessary to the success of this film that could stand alone on Crowe's performance alone.  Ron Howard's direction here has also never been better and the film gets great work out of Ed Harris, Paul Bettany, Josh Lucas, Adam Goldberg, and Jennifer Connelly as well.  The main attraction here will always remain Crowe and John Nash's incredible journey to remain himself and hold his family together as he struggles with seemingly insurmountable issues.  Howard's film is a wonderful portrait into a troubled man's life and Crowe's performance will go down as one of the best in a brilliant career.
68. The Squid and the Whale
Noah Baumbach's funny and honest look at divorce covers the effect it has on all members of the family and while some might find the subject matter a bit off putting it is an actor's showcase that isn't afraid to talk about things that really happen.  Jeff Daniels and Laura Linney are pitch perfect as the divorcing couple and their interactions with their two sons ring painfully true.  Add in the awkwardness of children growing up and dealing with the divorce and you have four completely engaging characters that remain constantly interesting throughout the picture.  Jesse Eisenberg and Owen Kline are also brilliant as the children and go toe to toe with the older actors in the film.  Baumbach wrote this from his own experiences and you can feel the personal touch to the film as the tone never once feels forced and we are left with an honest look at divorce that captures the humor in a situation normally perceived to have none.
67. The 40 Year Old Virgin
Judd Apatow's feature debut remains his best and features a star making and hilarious turn by Steve Carell.  The cast in this film is filled with comedy all stars, Paul Rudd, Seth Rogen, Jane Lynch, Elizabeth Banks, and Leslie Mann and features some great scripted bits and tons of hilarious improv that really changed the way comedies have been made ever since.  While a number of similarly styled films have been released over the years since, this one remains the funniest and sweetest of the bunch and really feels like a genuine story about love.  Carell's awkwardness is worth the price of admission alone, I mean look at that brilliant poster, and while the central theme is a bit outlandish we can believe that this just had bad luck and has given up on losing his virginity.  A comedy classic that gets better with every viewing and one of the best credit sequences ever.
66. Syriana
This politically fueled and timely release is structured like Traffic but dives into the corruption surrounding the Middle East, corporate greed, and the oil trade and what lengths governments and companies will go to secure these properties.  A truly terrifying and eye opening look into the world, the film is held down by fantastic performances from everyone involved.  George Clooney, Jeffery Wright, Matt Damon, Mark Strong, William Hurt, Chris Cooper, Amanda Peet, the cast is stellar and the intrigue that unfolds is handled well by everyone.  The plot is huge and wraps in and around itself over three main plots that all become loosely connected in the end.  The film is a bit dark and deliberate for some peoples tastes, but there is no dying the cautionary tale this film is and serves as an engaging and well acted story that is sadly more real than we would like.
And that does it for part 1, come back soon for part 2. (soon as in a day or so tops!)