DC's Chief Creative Officer, Geoff Johns, Talks About "Green Lantern", Ryan Reynolds, and More!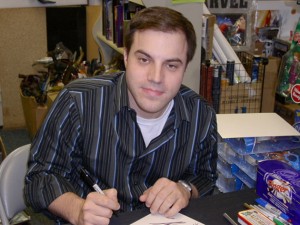 It has already been a couple months since DC Entertainment announced that Geoff Johns would be named their Chief Creative Officer (read the article here), and since then he has already started tweeting about their upcoming release Green Lantern (read about it here). Now he has given a pretty cool interview to Comic Book Resources about the upcoming release starring Ryan Reynolds. Here are a few highlight.
The movie looks fantastic. I'm heading back down to New Orleans in a few weeks, but I just watched the Abin Sur/Hal Jordan dailies, and it's amazing seeing that ring passed to Hal in live action. Abin Sur looks kick-ass.
They did such a great job. They've got Grant [Major] as a production designer. He's from "Lord of the Rings," and the visuals on this film are nothing like you could imagine. It's definitely a Green Lantern fan's dream. For me, it's kind of insane to see this stuff come to life.
And Ryan Reynolds is a perfect Hal Jordan. He brings a lot of humor to it, but he also has the humanity that Hal has. And a little bit of the arrogance, so it's a great match.
On the idea of more comic book movies:
I can't get into the exact DC slate right now, but we're all working heavily on what that is with Warner Bros. and there will be news forthcoming. But, you can bet there is going to be a lot more than there is right now.
I'm a big comic book geek, and it is fairly obvious that Johns is as well. It feels great that someone who has such an interest in the characters (and writes them so well) is involved at such a high level now. I think under Johns and the other guys recently hired we can trust that the source material will be treated well.
What do you think? Let us know in the comments.