Crazy, Stupid, Love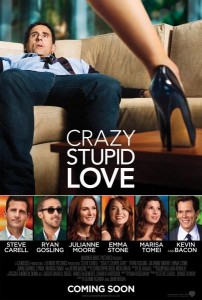 "I have loved her, even when I hated her."
Hollywood movies nowadays rarely surprise me. They might shock me in regards to how appallingly bad they are (I'm looking at you, Splice), but generally they don't really have the wherewithal to leave me speechless.
I've always been a Steve Carell fan. The Office remains one of my favorite shows to date, and you'd be hard-pressed to find an actor who can so eloquently pull off the naive nature of Michael Scott like Steve does.
Going off the trailers for Crazy, Stupid, Love, I pretty much expected it to be a light-hearted story covering a man dealing with his divorce before realizing how much he still loves his wife. In many ways it is that, but to say that is all is comparable to saying a guitar's a box of wood with strings attached. This film isn't just a romantic comedy; in fact, I'm hesitant to even try to affix that description. I was initially kinda meh on the idea of seeing it, but I was enticed by the offer of getting dinner cooked for me by three lovely ladies in exchange for taking them, so I took the bait.
The focal point of the film centers on Cal (Carell) and Emily (Julianne Moore) Weaver. Over a dinner date, Emily tells Cal that she wants a divorce and coincidentally slept with a co-worker, David (Kevin Bacon). Understandably shell-shocked, Cal does his best to adjust and ends up moving into his own apartment and frequenting a bar, where he tries to talk to the patrons, yearning simply to be heard.
The one man who does hear him (Ryan Gosling) happens to be an absolute master at picking up ladies. His formula for getting girls is shockingly simple: buy them a drink, listen to them talk about themselves, have a lot of money, and be really, really, ridiculously good looking.
After undergoing a wardrobe makeover, Jacob begins teaching Cal the science of picking up women. The first few attempts are disastrous, but after his first success (Marisa Tomei), his confidence soars and in no time he's transformed into a regular Don Juan.
Invariably, Cal comes to the realization that he still misses his wife, his soulmate, despite bedding many younger, more appealing ladies in her stead. As Jacob pointed out when he first met him, his wife left because Cal had lost track of who he was, as a man and as a husband. Cal must also deal with his son, Robby (Jonah Bobo), who simply idolizes his father and is secretly in love with the 17-year old babysitter (Analeigh Tipton), who happens to secretly be in love with Cal.
If this sounds like a typical romantic comedy thus far, you're right. The first half of the film follows the typical formula. The second half of the film is where it really begins to shine. After a brief encounter in the first few scenes, Hannah (Emma Stone) plays a more significant role. She initially rejected Jacob's advances in the bar, but after a letdown by the man she's dating, she shows up drunkenly to the bar and proceeds to turn Jacob's world upside-down, eventually prompting him to open up and admit his lack of happiness.
It should be noted that the second half of the film has some major deus ex machina bits. I was initially going to write them off as being outlandish, but truly stranger things have happened in real life, and I somewhat applaud the filmmakers' decision to throw caution to the wind and go all out.
The cast is very cohesive and works well together. Moore gives a solid performance as a woman struggling to remember what it was she truly wanted in life. Gosling will certainly draw the ladies to the film, but the stars of the film are Bobo and Carell. Bobo's attempts to win over Jessica are humorous yet earnest, and he seems to be wise beyond his years. I actually had to kind of sympathize with his plight; as a 12-year old, I fell head over heels for a girl on my older sister's basketball team. As a 16-year old, I fell head over heels for a waitress at the sports bar I used to dishwash at. Naive? Maybe. But any younger guy who's liked an older girl can certainly understand.
Carell, however, is the focal point. Up until now, his roles have strictly been comedic with little character depth. He's 48, but he often exudes an innocence that never really matches his age. This is the first part I've seen him in that can actually show his depth. As a 44-year old going through the first emotional turbulence in his life, his efforts to deal with his shortcomings and take care of his family culminate perfectly in the final bar meeting with Jacob.
Perhaps others won't find it so moving and will simply consider it a standard rom-com. For that purpose, it's a solid, entertaining film. But delve a little deeper and you might find a bit more than you thought you would. In keeping with the nature of the film, the ending was perfect for me. I cannot recommend this movie enough for those who like Steve Carell, situational comedies, or the opportunity to ponder whether true love still holds true throughout the years.
Crazy, Stupid Love gets an A.