'Cougar Town' chalks up laughs and good ratings!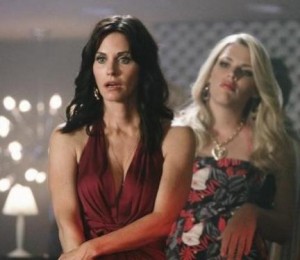 I can honestly say that I was taken by surprise last night at how funny the new Courtney Cox comedy Cougar Town is. I sat down turned on my DVR and watched the show right after I watched ABC's other funny new comedy Modern Family, and I actually guffawed at some of the jokes in the pilot. There is no doubt that this show is going to offend some people's sensibilities, but for those of us with a sense of humor ABC might have created a great Wednesday lineup for comedy.
Cougar Town follows as Jules, a divorcee real estate agent who is coming to terms with approaching 40 and being single. She is constantly kept in check by her younger friend Laurie, who is trying to sex up her image and trying to put her back on the market. Meanwhile, her best friend Ellie is kept at home with a new baby and a boring marriage. Her high school son is continually embarrassed by her inability to censor herself. Add in to the mix that her ex-husband is always dogging her for early alimony checks. Before long she finds herself at a bar chatting up a younger guy, and is on her way to being a 'cougar'.
For those of you not in the know, a 'cougar' is an older woman who tries to attain the company of younger men. There is already another show that has premiered earlier this week on CBS that deals with similar issues called Accidentally on Purpose. The difference? Well, one show is funny the other is not. ABC was the one who was lucky enough to get the job done. ABC was lucky enough to have Scrubs creator Bill Lawrence head up the show, and as a tv comedy veteran you could hope for no one better for a fresh tv comedy.
The person who really makes it work is Courtney Cox, which genuinely  surprised me. I have never been a huge Courtney Cox fan, and after her awful attempt at a show last time, Dirt, my opinion of her dropped slightly lower. This show is to bring my opinion to a whole other level. She is witty, charming, vivacious, and sexy in her new role. You can tell she has aged, but she pulls it off beautifully, and never seems desperate in her attempts at humor.
Cox is also supported by a brilliant supporting cast. Crista Miller is once again cast in one of her husband's shows, as best friend Ellie. Busy Phillips, who I will forever love from her time on Freaks and Geeks, is great at playing the 20 something social butterfly who is attempting to get Jules back in there. Dan Byrd who was excellent in 2007's Aliens in America looks like he finally might get some much deserved steady work on television. Rounding out the cast is Brian Van Holt as the failed jock ex-husband Bobby, and recently divorced and enjoying the company of younger women, Grayson played by Josh Hopkins.
If this one isn't on your DVR, then you are missing out on a potentially great new show. Back to back with Modern Family, and paired up next week with The Middle we could be seeing an all new night of comedy.
The night proved to be a success for the network with Cougar Town bringing in 11.48 million viewers! Modern Family had an even larger opening night with 12.7 million viewers. ABC easily won the night, and had a great opening for two shows.