CONTRABAND Opens January 13! Enter to Win Passes to the St. Louis Advance Screening!
Enter for your chance to win a pass, good for two!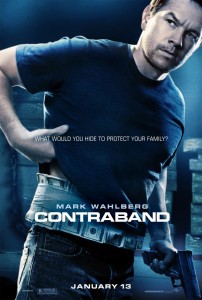 Chris Farraday long ago abandoned his life of crime, but after his brother-in-law, Andy, botches a drug deal for his ruthless boss, Tim Briggs, Chris is forced back into doing what he does best — running contraband — to settle Andy's debt. Chris is a legendary smuggler and quickly assembles a crew with the help of his best friend, Sebastian, to head to Panama and return with millions in counterfeit bills.
Things quickly fall apart and with only hours to reach the cash, Chris must use his rusty skills to successfully navigate a treacherous criminal network of brutal drug lords, cops and hit men before his wife, Kate, and sons become their target.
Starring: Mark Wahlberg, Kate Beckinsale, Ben Foster, Giovanni Ribisi, Lukas Haas
Directed by: Baltasar Kormákur
In order to enter the contest, become a fan of ReviewSTL on Facebook and share ReviewSTL.com with all your friends (click the "share" link on the bottom-left side of the page) – telling us why you can't wait to see the movie! Then like the post to complete your entry. NO PURCHASE NECESSARY. PLEASE REMEMBER TO READ THE RULES!
Screening is Tuesday, January 10th, 7pm at the Wehrenberg Ronnies 20 Cine.
Good luck! We hope to see you at the movies!
CONTRABAND opens nationwide on January 13.
CONTRABAND has been rated R for violence, pervasivelanguage and some drug use.