Concert Review: Taylor Swift at The Dome at America's Center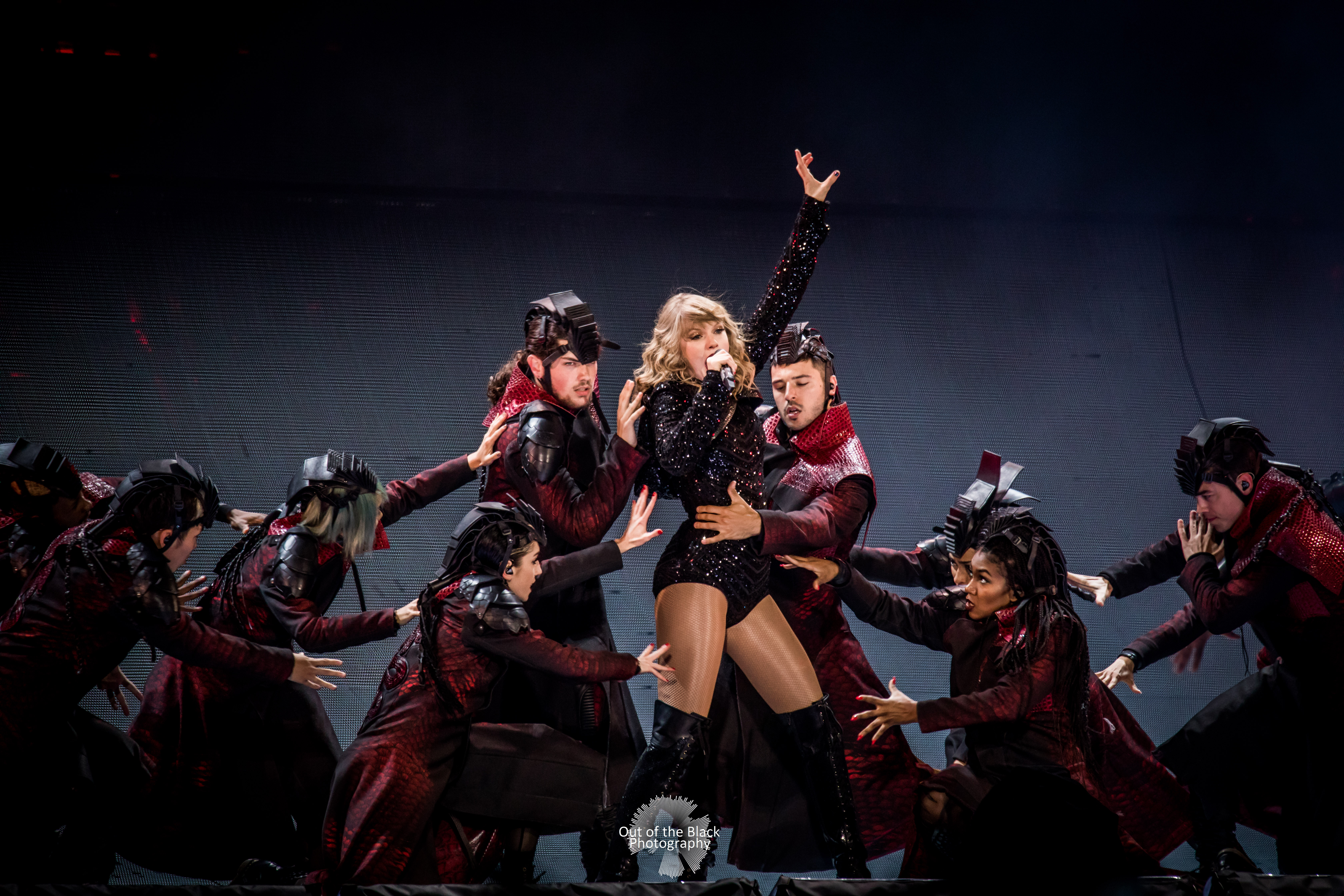 Review by Brendon Klohr
Taylor Swift's first ever full stadium tour, The Reputation Stadium Tour, was everything you'd imagine and more.
Having been her first full stadium tour, no one knew what to expect from Taylor. Her show at The Dome at America's Center on September 18 was by far one of the most impressive stadium shows I have witnessed. As Taylor acknowledge, the presentation given on a Tuesday night was mind-boggling.
Two artists, Charlie XCX and Camila Cabello, opened for Taylor and had nothing but positive comments to say about the impressive Tuesday night turnout. With this tour being a full female artist list each singer made note of this and mentioned their own praises about Woman Power. They were each exceptionally proud of the magnitude of this female-led tour, using it to influence the women and girls in the audience.
Each artist performed a fun selection of songs including some of the other artists. Charlie XCX, of course, played Icona Pop's "I Love It" in which she was featured in 2012. This is the song that really woke up the crowd and set the mood for the night. She once again got the crowd beyond pumped when she decided to play Iggy Azalea's "Fancy" which she was also featured on.
Camila Cabello opened her set with the song I hear most often on the radio these days, "Never Be the Same." There wasn't a soul in the stadium not singing along with her especially when she sang her famous "Havana." Camila also incorporated an unbelievably talented crew of back up dancers, something I feel Charlie XCX could have benefited from. The choreography was just as impressive as the music she sang so flawlessly.
And now the moment everyone has been waiting for, including Camila Cabello! Taylor Swift's performance far exceeded my already high hopes. From dancing to her flawless beautiful voice, to the absolutely impressive stage design, Taylor's performance was beyond perfect. I wasn't sure what to expect, but I knew to expect something phenomenal, but I got more than that.
Taylor drew in the largest crowd I'd ever seen on a weeknight and not a single person there wasn't on their feet. Even the event staff and security guards were ready for her. As each fan entered Taylor's crew handed everyone bracelets and instructed us to put them on for Taylor. When she came out we all pulled the tabs on them and they began to glow. They had LED lights programmed with the visual team's computers and flashed along to the music. Taylor said she incorporated the bracelets into her show, so she could see each and every fan from the pit to the top row of the top section. She said her fans are the reason she was here and wanted to acknowledge every single person.
Everything about the choreography was beyond phenomenal. From the stage props and costume design to the flow of it all, Taylor's crew did an A+ job. Like most big-name performing artists, Taylor had a considerable amount of costume/outfit changes. However, she did not go overboard with them and each one tied into the progression of the show in some way. Each outfit flowed seamlessly with the set design and the song in some way. The intentions were most obvious when she went to her second stage and talked about everyone else's outfits. She loved the effort people put into what they wore. She mentioned how she loved the incorporation of her song lyrics in outfits, which she took as a huge compliment, and proceeded to tell everyone that she'd be singing her next song "Dress" in a dress.
The songs she chose to play were obviously heavily influenced by her recent album release of "Reputation" hence the name "Reputation Stadium Tour" however she still played a few of the classics. She performed a bunch of different songs from throughout her career, including a mashup of "Long Live" and "New Year's Day" from her albums Speak Now and Reputation, respectively. Every night of the show, she played a different one of her older songs on her guitar. The song she chose for St. Louis was "Hey Stephen" from her second album Fearless. She made note that throughout the years her style has changed considerably as if each album was a new Taylor. This was all because her fans are not simply there for a phase in their life, but lifelong fans. She mentioned how surreal it is to have adults tell her that they have been listening to her since they were 8 or 9.
The crowd was increasingly louder throughout the night despite starting at an already impressive volume. It was even mentioned by Charlie XCX and Camila Cabello that Taylor fans are the loudest fans and Taylor's spectacular performance only made them louder.
Overall Taylor Swift's Reputation Stadium Tour was an absolute success and far exceeded my dreams. Taylor and her crew deserve the highest praises for their hard work and effort that made this night so magical. Every single crew member who made this performance occur flawlessly deserves a pat on the back. Taylor has set the bar very high for her future shows and I look forward to her seamlessly hurdling over it. If Taylor or any of her crew members are reading this, congratulations on a show well done, I'm blown away.
Look for a photo gallery by Reema Shah tomorrow.