Concert Review: NKOTB and Friends Mix It Up at Enterprise Center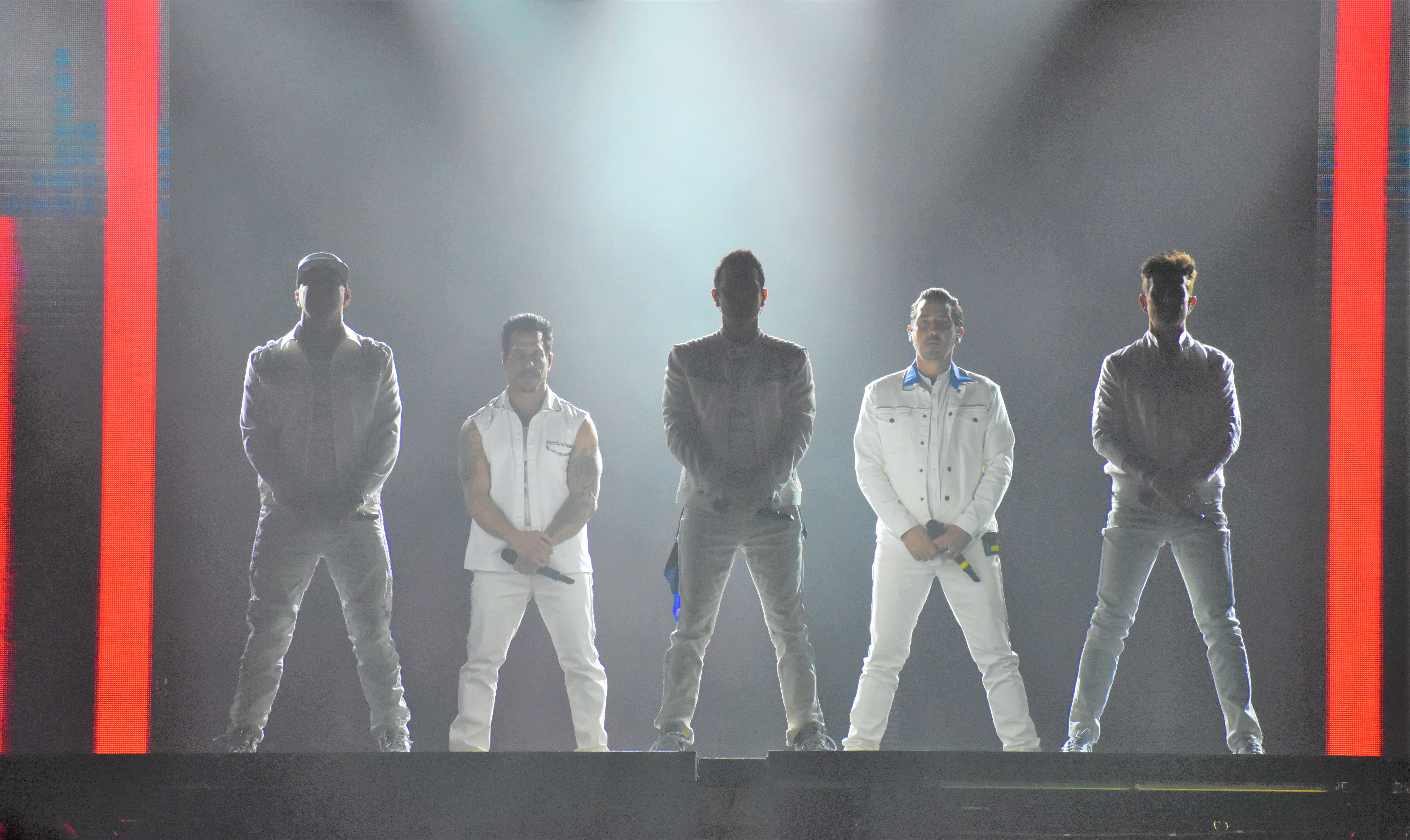 Enterprise Center in St. Louis was home to The Mixtape Tour 2019 as it turned back the clock Wednesday evening to deliver the ultimate 80's concert experience of all-time! Unlike most concerts, where each act takes the stage for the duration of their set, this show decided to follow its own set of rules, with each act performing random songs here and there throughout the show, weaving other bands and performers into the set (much like an actual mixtape.) With two stages and several spots for audience interaction, New Kids on the Block headlined the tour and were joined by Tiffany, Debbie Gibson, Naughty by Nature and Salt'n'Pepa.
The night began with a DJ and a hype-man getting the crowd rowdy to some of their favorite hits from the '80s. Covering all genres, we got remixed versions of "Hey Mickey," "Wild Thing" and "We Built This City." It wasn't long before New Kids on the Block took the stage, and the crowd went wild. (That's an understatement, the crowd absolutely lost their shit.) They played fan-favorites "The Way" "Dirty Dancing" and "You Got It (The Right Stuff,) to open the show. After a few more performances, members of NKOTB (Joey, Jon, Jordan, Danny, and Donnie) took to the audience, interacting with fans while slowly making their way to the second stage. It was this second stage distraction that caught everyone off-guard when Tiffany took the main stage to perform "I Think We're Alone Now."
Following Tiff, Debbie Gibson then made her appearance performing a mashup of her hits "Out of the Blue," "Shake Your Love," and "Electric Youth." Both 80's 'mall girls' had performances sprinkled throughout the Mixtape Tour, but it was the sprinkling of Salt'n'Pepa that proved to be quite impressive. The duo, supported by some backup dancers, proved no matter the decade they still know how to put on a damn good show. Beginning their time on stage with a mashup leading into "Whatta Man" and "Let's Talk About Sex," the duo was the perfect segue for Naughty by Nature to come out and perform "O.P.P." As far as the variety of acts go, it's fair to say that NBN was the weakest link, as one of their performers didn't even take the stage until their last song, and then just sort of stood there awkwardly until the set was over.
The awkward mishap of missing band members was quickly forgotten because NKOTB took the stage again, with updated performances of fan favorites like "Tonight," "Cover Girl," and "Step by Step." There were a few impressive solos and duet moments with Jordan Knight performing "I'll Be Loving You Forever," and a piano duet between Joey McIntyre and Debbie Gibson that was absolutely mind-blowing (even more so because Gibson's earpiece wasn't working so she decided to hit the stage without it, and still knocked it out of the park.) Throughout the evening, there was not a boring moment, as 80's music was being blared throughout Enterprise Center at all time, creating such a unique and fun environment. The concert also utilized the use of an interactive app for cellular devices called APPIX, creating an even more unique experience and making audience members feel like they were a part of the show (Disclaimer: It drained your battery incredibly fast and several thousand people on one wi-fi network caused some intense delays.)
Being the seventh time seeing NKOTB perform, I would have to say this was one of the best concerts of theirs that I have attended. From beginning to end, the show had such high energy that it was quite the task to find yourself standing still in your seat. Having seen NKOTB many times before, I was also surprised at the amount of interaction they had with their audience at this specific show, having many moments where members of the boy band branched out to mingle with fans in their seats throughout Enterprise Center.
It was also truly a gift that "Push It" was saved as one of the last songs to be performed, only proving that Salt'n'Pepa still know to "push it real good." The show closed with NKOTB performing "Hangin' Tough," with a little mashup of "I'm Shipping Up to Boston" and "We Will Rock You" overlaying the beat of the song. Finally, all acts gathered on stage for one final performance of "80's Baby." The crowd couldn't stop clapping as New Kids on The Block, Tiffany, Debbie Gibson, Naughty by Nature, and Salt'n'Pepa performed an epic collaboration, before thanking the audience and taking their final bow and exiting the stage. Overall, I would say it is a fair assessment that this was one of the most energetic and enjoyable concerts I have been too in quite some time, and truly recommend checking out this tour if given the chance.