Interview: Sinbad Visits Helium Comedy Club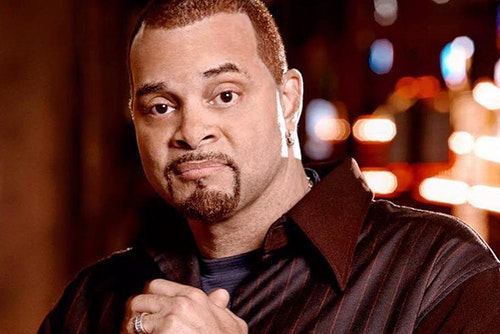 For over four decades David Adkins has established himself as a versatile entertainer whose work spans across several mediums, including television, film, music and comedy.  
Adopting the moniker, Sinbad, his career as a comic began in Wichita, Kansas where he was serving in the military at McConnell Air Force Base. Looking for kicks, his career followed a different flight plan after he began performing stand up on his off time.
After a series of mishaps, including going AWOL, Sinbad was discharged from service free to pursue his passions of music and comedy.
After a career making run on "Star Search"Sinbad landed gigs on television, including "The Redd Fox Show" and the "Cosby Show" spinoff, "A Different World."  From there he appeared in several films including "Coneheads,"" Houseguest," "The Meteor Man," Good Burger" and "Jingle All the Way" as well as headlining in his own comedy specials.
Drawing on real life reflections and observations Sinbad visited St Louis for a weekend of stand-up sets at Helium Comedy Club. Sinbad talked to Review STL about a lot of things, including his career, working with Redd Foxx, his love of making music and the challenges of dealing with ADHD.
Where do you get the ideas for your comedy?
Everywhere. Whether I am reading, watching tv or walking around. I am an information junkie,so I am always checking stuff out. Sometimes you might be complaining about something and then you stop and realize' hey that's a routine.' I don't write the whole routine down; I just write the thoughts. I don't write the whole thing out, I let it work itself out on stage.
How do you think comedy has changed since you started out?
It's changed like basketball has changed or how art has changed. As the world changes everything changes. It's not the same because we didn't have social media or cable TV. So,you have to really work on it in a different way. It's a natural evolution. The only bad thing is that when I started there were comedy clubs in every dang city. But 80% of them were in the South for some strange reason. I don't know why. There were comedy clubs everywhere. I could be an opening act and make $300 a night or $500 a weekend, cats can't make that kind of money now.
Do you think starting off as a comic in Wichita was better than trying to break in in Chicago, New York or LA?
Well if someone live in Chicago that's his way, if someone live in New York that's their way. It's wherever you live. With Wichita, I happened to get kicked out of the military and that's why I was there. I'm glad I was not in New York or LA. There's a reason why I didn't go there till I was ready, because I didn't want to go there and have someone tell me who they thought I was, I wanted to go there as someone who was to selling show out. I didn't to do my own thing, I didn't want anyone to hone me.
Who has influenced you with your career in comedy?
My father, my mother…the guys I was in the military with. Most of my influences were regular dudes. I didn't know any comics. I saw Cosby and those guys, but they were on TV. Their influence on me was to be famous not to affect my style. You can't be them; you can't be Richard Pryor. I want to get laughs like Richard, Bill Cosby and Robin Williams. But I couldn't be them because you can't.
What was it like working with Redd Foxx?
It was my first TV show. I had just gotten to LA and I got a chance to play his son. It was like being a kid in a candy store, he was one of my heroes. Redd Foxx taught me how to do television. He showed me how to face the camera and where to stand and all of that. Redd would dog you and love at the same time and that's why I loved him. He totally messed around with you but at the same time, he would help you.
How did you end up working with Seth McFarlane?
The reason I started doing Family Guy stuff was because they used to have this little character, a Sinbad character. He had it all wrong and I didn't like the guy doing my voice. So, I was at a comedy festival and he was doing a reading of one of his episodes and I went backstage to talk to him. I think I scared him. I met and said 'Dude, if you are going to do mw why don't you let me do me? I can do me better than you guys can.' I did tell him I wouldn't do any dumb jokes.
Can you talk about working on the 'Shaazam' movie at all?
It's funny. This all started maybe five or six years ago. I don't know how it got started. But now I just go with it. I must have been in it. I must have done it. I must have starred in it and been on drugs really bad and I don't remember it.
As a multi-instrumentalist what is your favorite instrument to play?
I think the bass. Bass and percussion because I started out as a drummer. I like playing guitar but being a lead guitar player takes a lot of work and I think I want to play too many instruments to get really good at it. I'm trying to learn how to play the trombone right now and I want to get better on the trumpet and the saxophone.
How did your musical career begin?
I was a drummer growing up from the time I was in 5th grade. I thought I was going to be a musician instead of a comedian. I wanted to be in Earth, Wind & Fire. I love playing music and I love the fact that it's still fun and I'm not jaded by it.
How was it touring and playing percussion with Victor Wooten?
It was last summer, and it was cool as hell. It was insane. We were friends and he came to my show in Nashville and I had a little band onstage with me. It was crazy. I called it 'funkedy' because I would miss funk with comedy. His percussionist Dennis Chambers was going to miss some gigs. They asked me if I wanted to cover those dates and I was giddy like a little kid.
Do you see any comparisons between doing comedy and playing jazz?
You aren't going to believe this. I did Star Search and in the finals Cicely Tyson was one of the judges, the other one was Miles Davis. So, after the show Miles Davis walks over to me and my mouth is wide open because he tells me, 'man I watched you do comedy and that's jazz. I don't know if you play music but if you do keep on playing.' I freaked out because Miles Davis got what I do. When I have a comedy special to do, I spend about 48 hours straight listening to music while I develop my routine. Then I start writing music and think about how to mix music with this routine. It just comes to me.
How does having ADHD affect you creatively?
When you have ADHD, you have to have people around you like a manger to make sure you finish projects. I get excited about stuff and the moment I go out and pitch it and don't hear anything for a few weeks, I don't want to do it anymore. I've gone on pitches before where I end up pitching four different ideas in the room. Until I found out I had ADHD I didn't realize most people couldn't swing that way.  When you have ADHD, you think everybody thinks the way you think, and you end up discovering that everybody doesn't. That is why you need one person to get you and believe in your talent.