Concert Review: NEEDTOBREATHE at Stifel Theatre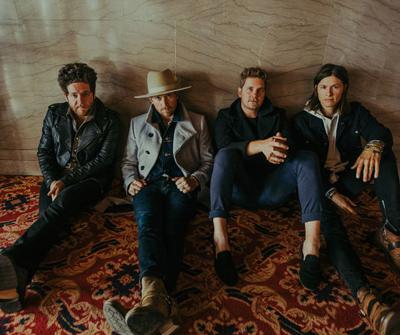 ​NEEDTOBREATHE, the American Christian-Rock band from South Carolina, brought their Acoustic Live tour to Stifel Theatre Monday night. Opening the show was Matt Maeson, weeks away from his first album debut. Maeson performed all his songs acoustically, sticking to the theme of the tour while also displaying some impressive vocals. For an opener, all it took was one man, one mic, and a guitar to show off his talented skills and get the audience ready for the headliner.
​Fans made it known that NEEDTOBREATHE was highly welcomed to the stage as they cheered and chanted when the band came out. Kicking off the show with hits from their album "Rivers in the Wasteland," NTB played crowd favorites "Forever on Your Side" and "Difference Maker." Weaving through popular songs from their six studio albums, the show continued on – and almost every song was accompanied by the rhythmic clapping of the audience. (Literally, almost every song. The vibe was phenomenal.) You could hear audience members singing along with brothers Bear and Bo Rinehart as the band continued with "Multiplied," "Happiness," and "Wasteland."
​Band members made good banter on stage in between songs, whether it was the origin of how the song came about, or just playful talk amongst themselves – but it kept audience members engaged and smiling. In fact, Bear Rinehart was sporting a bolo tie the entire show given to him by a fan during a VIP meet-and-greet, which he again thanked her for during the show. This opened up conversation for some of the weirder gifts the band has received from fans before, an example being the ashes of a fan's pet dog. Bear then made the statement "Bolo ties. Dope. Dog ashes. Not so dope."
​After a brief intermission, the second half of the show came back in full force – causing most audience members and fans to remain standing for the remainder of the show. I can say, I was truly impressed with Bear's voice during their cover of Lucinda William's "Joy," as the band absolutely stunned me with their vocal range and display of how their voices collaborated and filled the auditorium. It is needless to say thatNEEDTOBREATHE knows how to harmonize with one another, only adding power and strength to some of their rock ballads they perform.
​Unaware if it would work or not, the band then went completely unplugged to perform "Hard Love" and "Brother." To their satisfaction as well as the audience members, it's fair to say that it worked. Even without a mic, fans weren't afraid to lend a hand when it came to the vocals as the entire theatre sang together, creating an intimate moment between both the band the audience. And of course, no concert is complete without an encore – as NEEDTOBREATHE was welcomed back to the stage once more to cover The Killers "Human" and then end the show with crowd favorite "More Heart, Less Attack." I've never seen NEEDTOBREATHE as a headliner, but then again, it has been years since I've seen them perform live. It's fair to say, they've only gotten better, and I'm sure fans would agree that this acoustic show was definitely one that you wouldn't want to miss. They put on a fantastic show, interacted with their fans in such a unique way, and created an experience nobody in attendance will be forgetting any time soon.
​