Concert Review: Halestorm at Stifel Theatre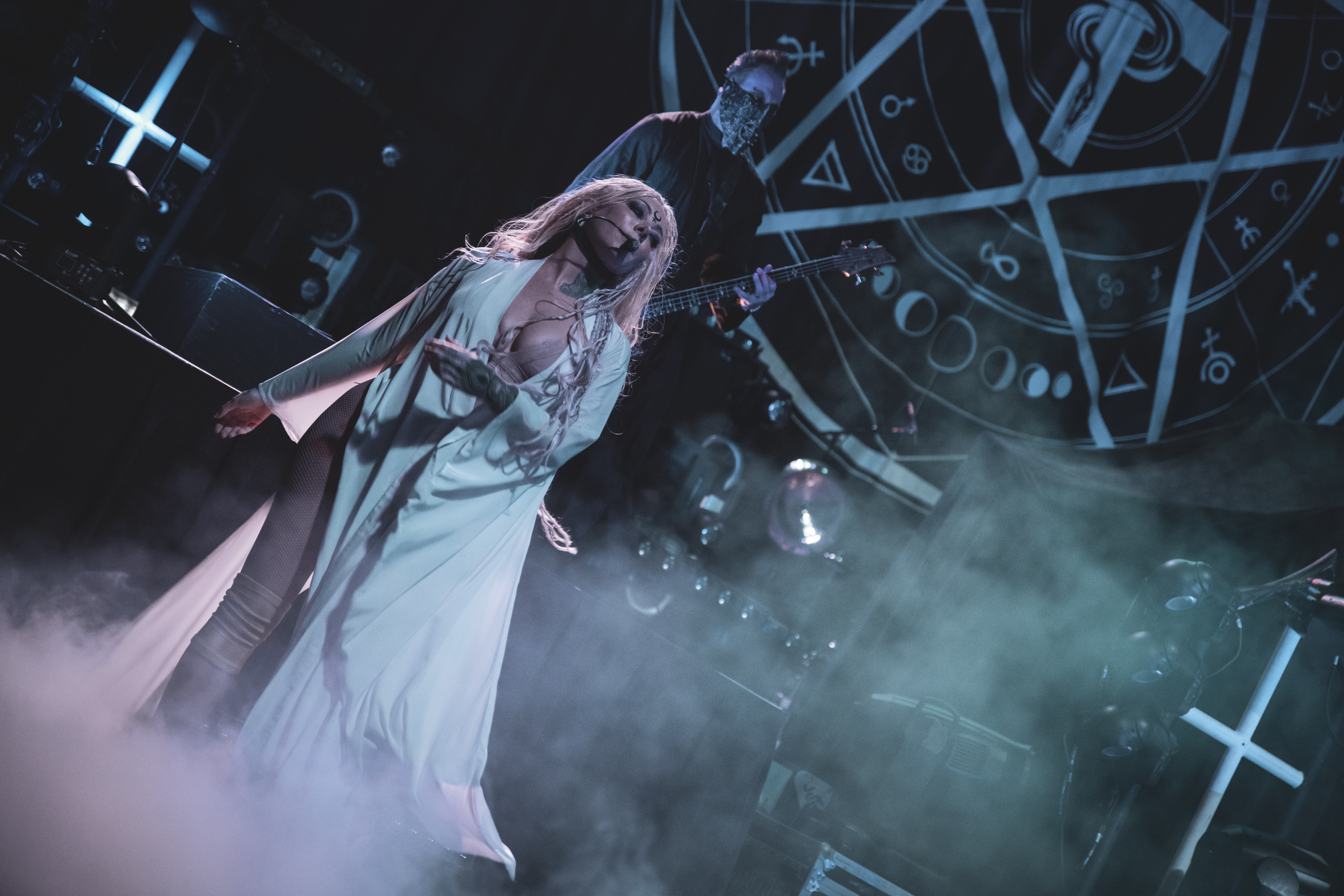 Thursday night at Stifel Theater in downtown St Louis was definitely ladies night.  And I don't mean drink specials.  The show was a double feature, Halestorm and In This Moment, both bands are fronted by strong female lead singers and are considered heavy metal type groups.  The similarities pretty much stop there. The first sign that this was not your average concert was the white curtain that dropped down with a giant black and red venomous looking spider adorning the center prior to In This Moment's set.  You could see the shadows of some serious setup action going on behind the curtain.  When the curtain was raised, we were suddenly transported to a creepy gothic graveyard, complete with crosses, lots of smoke, and very serious costumes. Lead singer Maria Brink was draped in black vampire-esque cloaks.  There were 2 look alikes that mirrored Brink's elaborate performances throughout the show.  And what a show it was!  Every song brought visually stunning new staging, props, masks, costumes, and elaborate choreography.  It was not like any other concert I've ever seen, it was almost like a twisted version of Cirque du Soleil meets Dracula, meets Lady Gaga.  What a delightful mashup of elaborate theatrics!  With all of this execution, you might think that the music took a back seat to the dramatic set .  That could not be further from the truth.  Brink brings a haunting and memorable voice to songs like "River of Fire" and "Big Bad Wolf".  There was a beautiful rendition of Phil Collins' "In the Air Tonight" and the set ended with their most popular song "Whore" which despite it's title is an empowering song about the burden of society's expectations on women and shattering the limitations placed on women by society.  Her message throughout the evening was one of love, beauty and reminding the crowd to be kind to one another.
After a 30 minute intermission, the curtain rose again on a much different stage. 
Halestorm
's main attraction is definitely lead singer
Lzzy Hale
.  Her powerhouse vocals and clear strong voice that didn't miss a note the entire evening were quite a contrast to the haunting raw quality of
Maria Brink
's voice just an hour earlier. 
Halestorm
brought a
Joan Jett
vibe to the venue, with Hale's cropped black hair and rock and roll stage presence.  The setlist was rich with high energy, hard core favorites like "Mz Hyde" and "I Am the Fire", along with Halestrom's signature risque suggestive work "Do Not Disturb" and "I Get Off".  Super edgy material, without being over the top filthy.
Drummer Arejay Hale was also a highlight of the show, with a drum solo that rivaled any I've seen.  The evening finished up with crowd favorites "Freak Like Me", and "I Miss the Misery".  Spending the evening with
Lzzy Hale
and
Halestorm
is just the right amount of  naughty with a whole lot of nice.  Just in time for the holiday.  The entire evening was original, fun, and thought provoking, and I walked out of there feeling very empowered and happy to know that there are such bad ass females making such excellent rock and roll.