Theatre Review: 'A Christmas Story' Brings Holiday Cheer to The Rep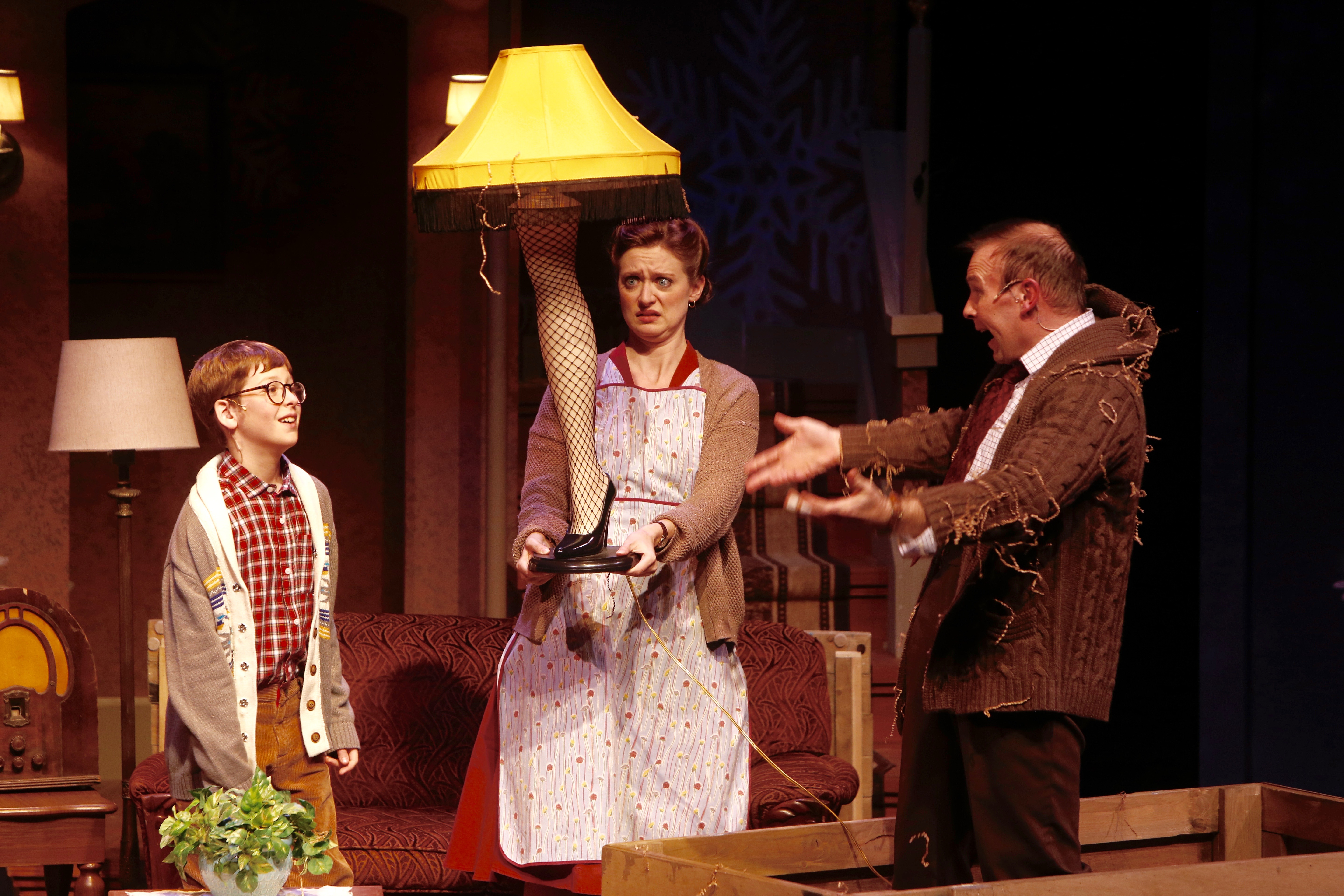 Watching Bob Clark's 1983 classic A Christmas Story has been a holiday staple for as long as I can remember. Based on author Jean Shepherd's 1966 novel "In God We Trust, All Others Pay Cash," it's a hilarious film about a young boy named Ralphie who wants nothing more than to get a BB gun for Christmas. I love the story, yet wasn't sure how well it would translate to the stage before seeing the show. Well, I'm very happy to report that it's a smoother transition than I would have ever imagined.
Much like the film, the stage version is narrated by an adult Ralphie (Jean Shepherd himself in the movie) – played wonderfully by Ted Deasy. Not only does the actor have a fantastic voice to match Shepherd's famous performance, but also the perfect cadence to deliver the classic lines. The narrator is essential to the story, and I was relieved to find out that isn't changed for the stage. Deasy is truly fantastic as he regales the audience with the story of Ralphie's memorable childhood Christmas.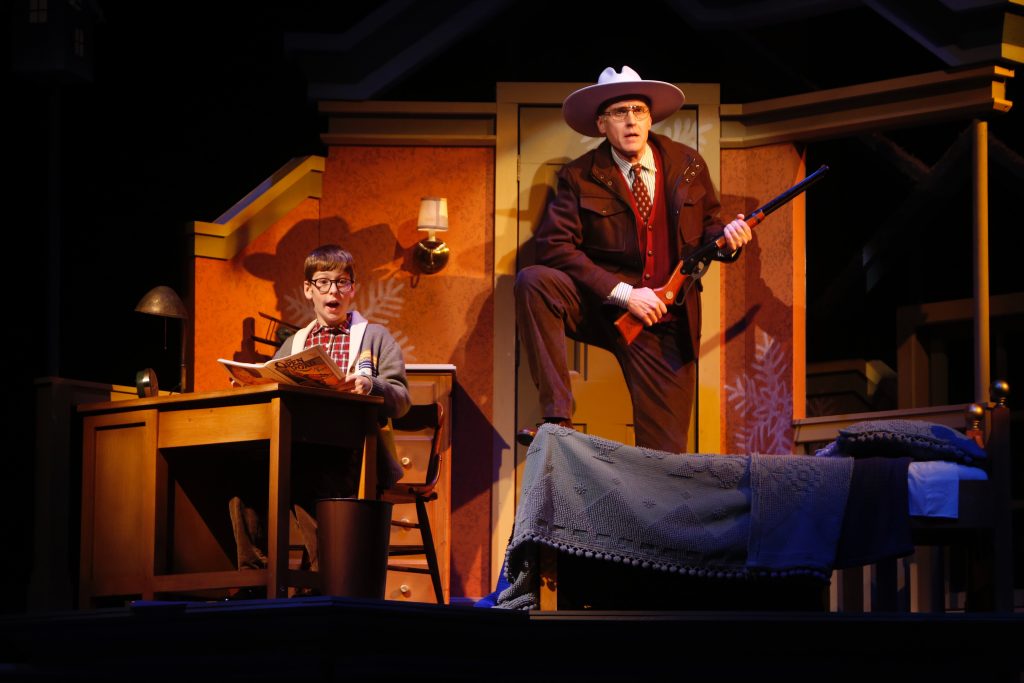 Young Ralphie is played by Charlie Mathis, who also has the look down to match his character's film counterpart. When it comes to a story that is so culturally iconic, it is impossible not to compare a newer version to the original. But once again here, the actor does a tremendous job capturing the same magic that Peter Billingsley did in the film.
Ralphie's parents, or I should say his mother and "the old man, are played by Laurel Casillo and Brad Fraizer. The two are hilarious as the quirky duo, never ceasing to make Ralphie and his brother Randy's (Spencer Slavik) lives interesting. Whether it is Fraizer battling the furnace with a barrage of creative expletives, or Laurel nonchalantly solving contest puzzles like a walking encyclopedia, they are both great.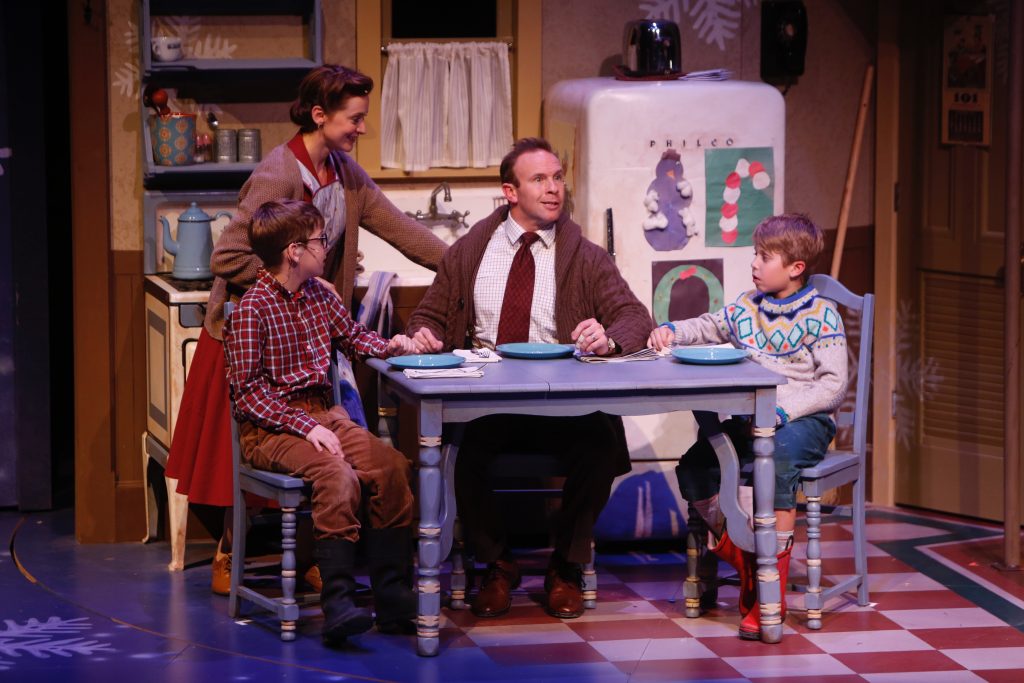 The show features a terrific supporting cast comprised of Dan J. Wolfe and Rhadi Smith as schoolhouse friends Flick and Schwartz, Ana McAlister and Gigi Koster as classmates Esther Jane and Helen, Tanner Gilbertson as the bully Scut Farkas, and Jo Twiss as their teacher Miss Shields.
Scenic Designer Michael Ganio has crafted a beautiful set that takes the audience between Ralphie's home, school, and eventually Higbee's Department Store to meet the jolly one himself.  They even use a vehicle that is crafted to fit The Rep's stage, making clever use of the revolving sections, to transport the family's Christmas tree home. The sets along with costumes designed by David Kay Mickelsen are the perfect time capsule for the early '40s.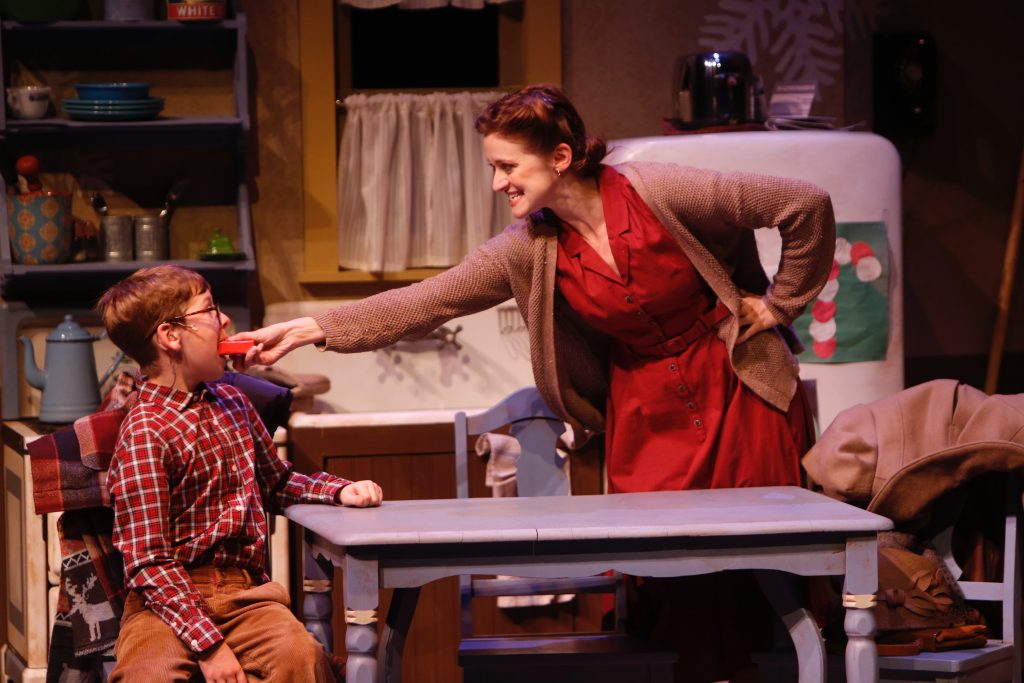 If you love the movie, there is no doubt that you will also adore this fantastic stage production. Even if you have never seen A Christmas Story, or read the source material, it is a classic tale that needs no introduction to enjoy. Director Seth Gordon has ensured that the magic of the show's predecessors and holiday spirit are in full effect here, and it's a great way to spend the holidays with the entire family.
See A Christmas Story now through December 23 at The Repertory Theatre of St. Louis! Tickets range from $24 – $97, and are available at RepSTL.org.