Concert Review: Garth Brooks Sells Out and Shows Out at The Dome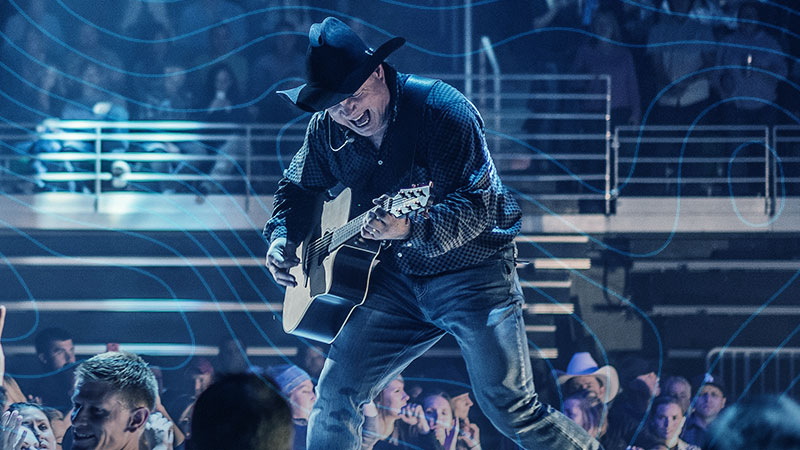 He may have been blowing smoke up the rear end of the 75,000-plus in attendance on Saturday night, but Garth Brooks seemed sincere when he said his show at The Dome at America's Center was "the best night of my life."
Brooks did not disappoint the largest crowd in the history of the dome, as he played all his hits from "Rodeo" to "Friends in Low Places."
The crowd was so large in fact, that Brooks did not take the stage until 7:50 p.m., nearly an hour after the listed start time. The country star more than made up for the late start, as he posed for selfies with fans, signed autographs for children, and even sang with a fan that some St. Louisans may recognize from local radio station 105.7 The Point.
There's no doubt that Brooks is a showman, having won CMA's Entertainer of the Year multiple times. His showmanship was on display during his 2 and ½ hour show. Brooks' band is among the best in the business and he knows it. He took time to individually introduce each member throughout the night, telling little stories about them as he introduced them.
Brooks wife, Trisha Yearwood even made an appearance, despite her saying she would not be performing. She sang two songs while Brooks played an acoustic guitar next to her. The country superstar joked that her applause was greater than his. Make no mistake, the crowd was on its collective feet all night long, hooting and hollering and singing along to all 30 songs that Brooks sang.
The singer seemed shocked the crowd knew the lyrics to one of his new songs, "The Road I'm On," saying, "You got to be shittin' me!"
The setup of the show was basic, yet high tech. The stage was configured in the round, under a tower-like cover with four projection screens.
While the show was the first of a tour that will span three-years, it was clear that while Brooks has been the King of Country for nearly 30 years, this cowboy isn't ready to ride off into the sunset.
Garth Brooks show gets an A+