Concert Review: El Monstero at Hollywood Casino Amphitheatre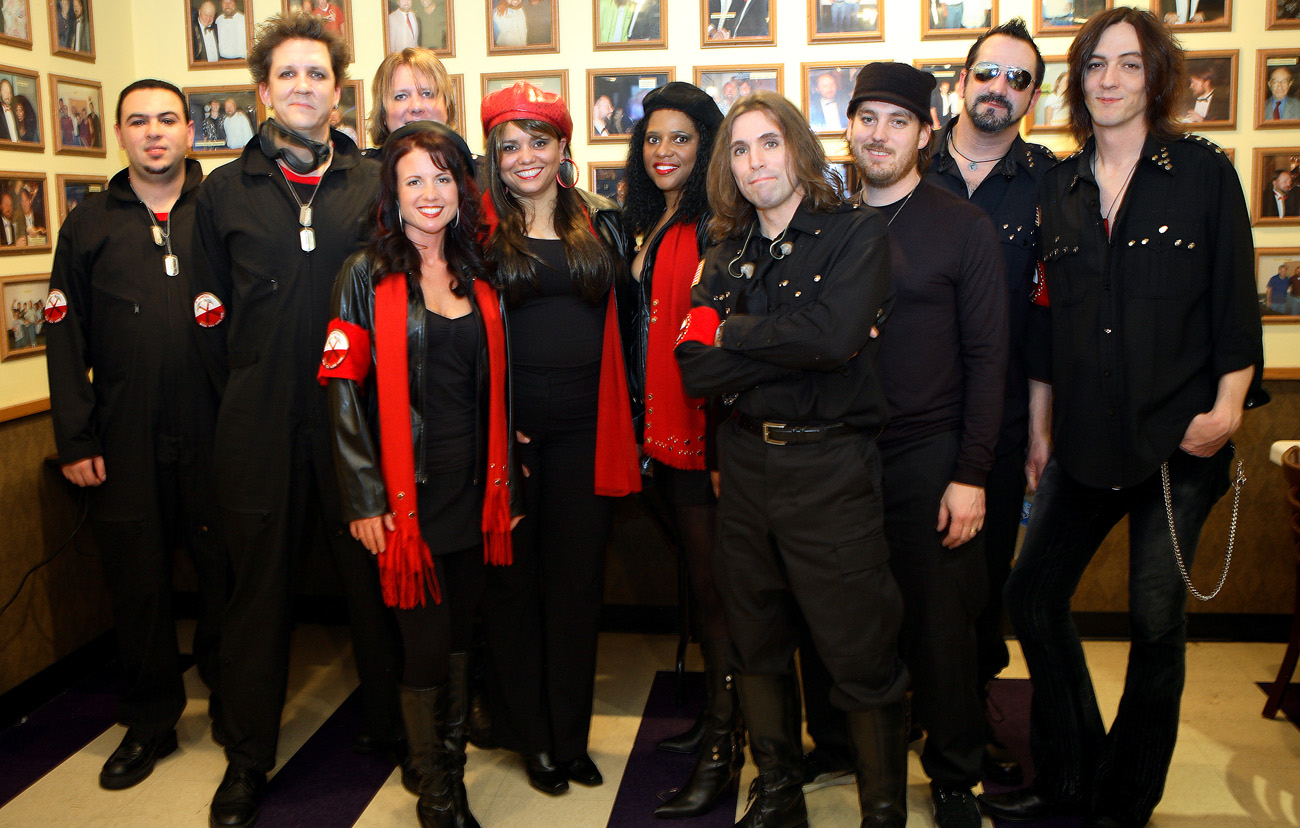 The night all of Saint Louis was patiently waiting for since their winter show at The Pageant had finally arrived; El Monstero and Here Come the Mummies were here to perform at Hollywood Casino Amphitheater.
Upon arrival, I could already tell how much I underestimated the popularity of this Pink Floyd cover-band. Lines to enter the show were all the way out in the parking lot, and Will Call had a significantly long line as well. Among the last few shows I've attended at the Amphitheater, this one has been the most hectic regarding crowd size. I expected fans to primarily consist of older folks who would be bringing out their old hippie wardrobes to celebrate Pink Floyd's music and truly feel as if they were back at one of their concerts, and though my expectations were met, there were also a lot of youth there who definitely weren't around when Pink Floyd was in their prime. To see a various amount of age groups was delighting; it made the concert seem more welcoming to younger people like me. Seeing wide age differences in concert audiences reminds me of what music is all about— bringing people together.
Here Come the Mummies were the first to hit the stage at around 7 p.m. I had no idea what to expect from this group, and I honestly hadn't heard of them prior to this show. Nevertheless, they put on a superb performance, and I'll certainly be bringing them up in casual conversations just because they deserve the mention. All members of the band were dressed in mummy costumes, masked themselves with face paint, and even imitated the personality of an undead human throughout most of their set. For awhile, fans weren't dancing along; they were sitting back and patiently waiting for El Monstero to take the stage. Later into their set, Here Come the Mummies made their show a little more exciting. First off, the talent of these musicians is absolutely stunning. Their saxophone players were phenomenal and shocked us all when one of them pulled out two saxophones and executed them both at the same time. Fans were going nuts for it, but just think about how incredibly difficult playing two instruments at once is. Not only did the saxophone player have to hit the same keys on each saxophone correctly at the exact same time, but he had to have enough airpower as well. This was only a small contribution to their outstanding performance.
Stage presence during a show is important to keep the audience intrigued, and Here Come the Mummies did more than enough to make sure the crowd was always entertained. Between encouraging fans to rise from their seats and dance along to their music through guided dance, and running into the crowd to play their instruments next to audience members, the show was never boring. I always love when entertainers make the effort to put themselves into the crowd; it makes the experience for fans more personal and provides the "wow" effect they need. El Monstero hand-picked Here Come the Mummies to open for them, and what a wise decision on their part.
El Monstero took stage around 8 p.m., and played for over three hours. A long show, but that's what happens when a Pink Floyd cover-band has a setlist of songs that last over six minutes each. Sometimes, however, it can become a little boring. I noticed throughout the night that fans were sitting almost ninety percent of the time. Most of the time this would be a bad thing for performers, but in this case, it wasn't. Pink Floyd is a band that you can't really get on your feet and dance to. Instead, it's the type of music you sit back and vibe to, and that's exactly what fans were trying to do. This was a night to reminisce on old memories with friends and celebrate the legendary music of Pink Floyd.
Prior to attending the show, bassist Kevin Gagnepain spoke with me about the kind of performance I should be expecting out of El Monstero. He claimed their production was exciting, and that a lot of effort is put into it every time they perform, especially since they are an exclusively Saint Louis performer. Well, Kevin wasn't kidding. The light work, the technical affects on the big screen, the props, and the dancers onstage were key into keeping this long show as entertaining as possible. The best way I can describe the scenery of the show is "trippy." There were strobe lights, disco balls, fire, sparks ignited by a welding machine, and the holographic background displayed images that were a headache to the brain. If you're someone like me, illusions and excessive lighting can cause a headache and makes the show a bit less enjoyable. But, if you're a hardcore Pink Floyd fan who is used to the kinds of shows bands like these put on, this was the night of your life.
Here Come the Mummies made an appearance on stage with El Monstero a couple times in the evening, adding a nice touch to the performance. If there was one thing I was disappointed in, it was the wardrobe of El Monstero. Here Come the Mummies was dressed in character; they played themselves to be mummies. El Monstero, though some of the musicians and dancers wore face paint to make themselves seem scarier, didn't fit into their "monstrous" theme. It would have been a lot more entertaining if they incorporated a wardrobe to go along with the "Monster and Mummies" theme of the night. Nevertheless, the two bands performed well together.
Regardless of the ridiculous length of the show, and the lack of a more appealing wardrobe, the show was appealing to fans of Pink Floyd. All of the musicians posses incredible talent, and Pink Floyd's catalogue of music allows these performers to express their skills constantly, as nearly all of their songs consist of primarily riffs and solos. This type of show isn't for everyone, but it is certainly an experience. If all you're looking for is a show where you can sit back, relax, and vibe to mainly instrumental pieces, then an El Monstero concert is perfect for you. If you're more into being on your feet and busting out lyrics to songs at the top of your lungs, then maybe pass on this one. An overall entertaining show, but it definitely is not for everyone.