Concert Review: Brian Setzer Puts His Cat Clothes on for STL
I have a confession: I used to think Brian Setzer was a cat.
I'm not crazy, I promise. But with his band being named the Stray Cats and all the songs they wrote about felines, my five-year-old self just naturally assumed that Setzer had whiskers and a fluffy tail. Ahhh, fun times in 1982.
I'll admit that my grown-up self half-expected Setzer to sport pointy ears at his show at Pop's last night. I was a little disappointed that he didn't, but that was the only thing about the show that even remotely let me down.
After a spirited, twangy set by St. Louis' own Trip Daddys, Setzer and two members of his Rockabilly Riot Squad strutted onto the Pop's stage and immediately launched into "Ignition" and "'49 Mercury Blues." Cars and girls have been Setzer's tent poles for songs throughout his career, and Sauget, Ill., definitely delighted in hearing about his hobbies. Setzer worked up a sweat immediately and soon ditched his black and lime jacket, showing off a shamrock green vest as he jammed with Noah Levy on drums, Johnny Hatton on double bass and, later, Kevin McKendree on piano.
The combo of "This Cat's on a Hot Tin Roof" and "Drive Like Lightning (Crash Like Thunder)" got the crowd jiving and shouting back to its rockabilly guitar hero. Audience members of all ages swooned when a couple of nuanced covers followed – Johnny Cash's "Folsom Prison Blues" and Carl Perkins' "Put Your Cat Clothes On." Grinning wildly, Setzer closed out the first set with "Blue Moon of Kentucky" and "Pickpocket," both from this year's Setzer Goes Instru-MENTAL!
If that were the end of the show, most St. Louisans would consider that hour well worth their money. Setzer had more to offer the audience, though, as he brought out fellow Stray Cat Slim Jim Phantom to pound the drums for this set, which focused on the Stray Cats catalogue. The wicked smiles and frantic playing these old friends traded pushed "Rumble in Brighton" and "Runaway Boys" to their spaztastic limits. Rock-swing number "Sexy + 17" followed, along with a drawn-out, purring version of the Cats' biggest U.S. hit, "Stray Cat Strut." Riot Squad member Chris D'Rozario slapped the bass for this set until he was challenged by Hatton during "Fishnet Stockings." Hatton and D'Rozario dueled "Devil Went Down to Georgia"-style for about five minutes before Setzer came out with his own silver double bass and won the jam.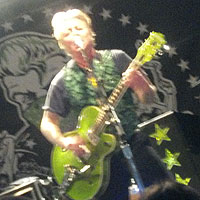 And there was STILL more!
Setzer brought out all of his band members for two one-song encores. Showing off his tattooed arms in a sleeveless shirt, Setzer led the band through "Rock This Town" and "Seven Nights to Rock." I thought it would be impossible to top the frenzied "Rock This Town" as an encore, but "Seven Nights to Rock" showed that Setzer knew how to pace his shows, rightly anticipating the audience's desire to scream lines back to the band and keep this gig going for as long as they could. Once the last notes were played and the guys' slicked-back hairdos had melted, Setzer hugged Slim Jim and grinned like a Cheshire Cat. He knew what we were all thinking – that he was the coolest cat ever, whiskers or not.
Notes:
* Setzer wins this year's award for having the most fun while performing. The man did not stop laughing and grinning once.
* Slim Jim savored the spotlight, twirling his sticks, standing on his kit and waving to audience members from both sides of the stage.
* The audience was filled with ecstatic Baby Boomer greasers and dressed-to-impressed 20-somethings in retro gear.
* Towards the end of their set, the Trip Daddys commented that they had one of Setzer's guitars from his signature Gretsch line and felt funny about playing it in front of him.
* The Stray Cats last performed in St. Louis in 2007 during their tour with ZZ Top, the Pretenders and Gin Blossoms. All three Stray Cats – Setzer, Slim Jim and Lee Rocker – took part.