Concert Preview: Fair St. Louis and More During 4th of July Weekend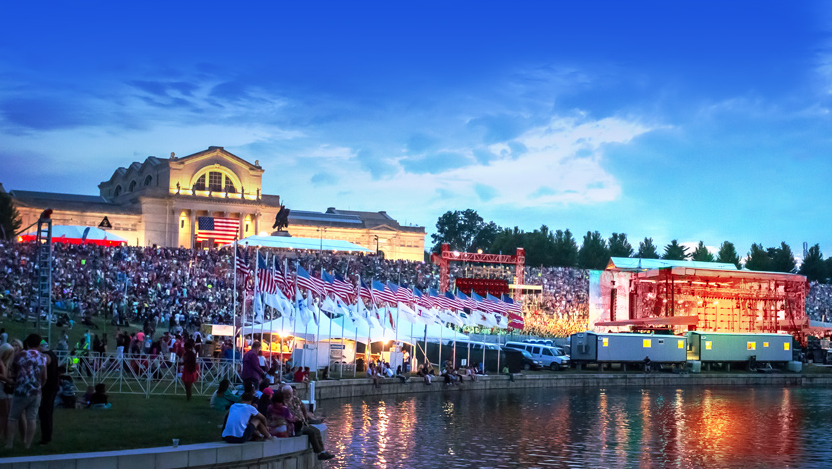 The upcoming weekend will be bringing a lot of fireworks and great music to the St. Louis area. If air shows and fireworks aren't your thing, there will be plenty of concerts to feed even the most hardcore music fans' appetites.
Fair St. Louis
Fair Saint Louis' show lineup will surely feature something for everyone. Hip-hop recording artist Akon, alternative rockers 3 Doors Down, and country music star Jake Owen are set to entertain the masses on July 2-4 in Forest Park.
The lineup also includes rapper SuperDuperKyle, veteran rockers Sister Hazel, rock band Eve 6, country duo Dan and Shay, and country singer Matt Stillwell. Admission to the shows is free. For more information on each concert visit fairstlouis.org.
Alton, Illinois
Fans on the Illinois side shouldn't feel left out, as rock group Gin Blossoms will perform on Monday, July 3 following the fireworks.
The band will perform at Mac's Time Out, in Downtown Alton's entertainment district, after the annual Alton fireworks show (on the riverfront). The entertainment district encompasses several streets, including Third and Belle streets, where Mac's is located at 350 Belle St. The show is free to the public.
Hollywood Casino Amphitheatre
If the free shows aren't your thing, head on out to Hollywood Casino Amphitheatre, as the venue has a show July 1,2,5,and 6.
On July 1st, Train and O.A.R will play Hollywood Casino Amphitheatre. Train has sold millions of albums worldwide, while O.A.R. has developed a steady following throughout the nation due to their stellar live performances.
REO Speedwagon and Styx will play a show on July 2. The event is KSHE 95's 50th Anniversary Pig Roast.
On July 5, Boston will play a show with Joan Jett & The Blackhearts at the amphitheatre, while Jimmy Buffett and the Coral Reefer Band will play on July 6. Buffett's shows have become a summer staple at the venue. Tickets are still available for all the shows through livenation.com.