Concert Review: Hanson at Stifel Theatre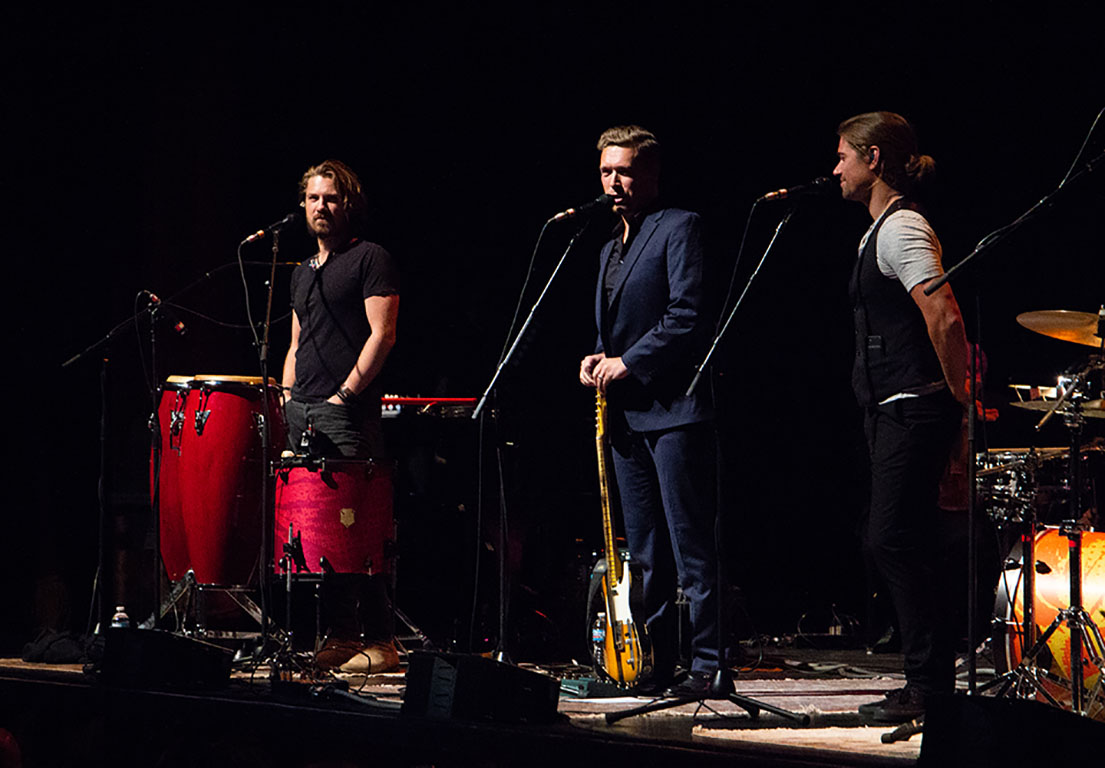 Review by Matthew Kistner
Wednesday night, 90's pop band and trio of brothers, HANSON, stopped by Saint Louis as part of their HANSON String Theory tour. Brothers Isaac, Taylor, and Zac spent the evening accompanied by a full orchestra at Stifel theatre performing the entirety of their String Theory album two days before the album is to be released. I will say, I honestly wasn't expecting the experience to be quite as relaxed and I wasn't expecting the boys to be backed by a full orchestra!
​Without an opener, the trio started the show promptly at 8 pm by simply walking on stage, greeted by cheers and howls from fans of all ages. Though anticlimactic, I understood the subtle entrance as oldest brother Isaac addressed the audience, thanking them for spending the evening with them and to remain seated and to really "enjoy and take in the music," and that some of the songs they would be hearing would be new, and some old. This was followed by younger brother Zac telling the crowd the time would come for them to get up and dance, and they knew when that time would be.
​Having been making music together for twenty-six years, it seems the trio of musically talented brothers sought to create a different experience for their fans. In doing so, they incorporated some of their well-known hits such as "MMMbop," "Where's The Love," and "I Was Born" into modernized versions of their hits backed by an impressive orchestral melody. As far as vocals go, the boys definitely share a gene of musicality and ability. The vocal range of youngest brother Zac is quite impressive, and was met with responses of several audience members giving a holler to let him know.
​The set was split into two parts, separated by a brief intermission. During the short break, I had the pleasure of speaking to one fan who informed me this was her 41st time seeing the group. Having been a longtime fan, Belleville, Illinois native Mallory has seen the same show within a tour nine times and has traveled as far as Oklahoma (where HANSON is from,) to see them perform. She stated this is definitely the first show where her butt has been firmly planted in her seat for the majority of the show, but she still couldn't have been happier to be there. During the last five songs of the show, it seems the audience knew that it was the aforementioned time to "get up and dance" as Zac had mentioned earlier, closing out the show with a higher amount of energy from both the band as well as the audience with both shouting the lyrics to songs such as "No Rest for the Weary," "The Sound of Light," and an impressive finale of "Tonight."
​If asked if I would normally find myself at a HANSON show on a Wednesday evening during a cold November night, I would probably say the chances are slim. However, I'm glad I didn't miss this performance. The vocals, backing of the full orchestra, and setlist were impressive enough to convince me that I will definitely be giving their new album a listen. The rebranding of the music is something that longtime fans can enjoy, as well as a way of reaching new audiences and listeners.
​Photos by Lee Goodman.