Comedian Aziz Ansari Hosting 19th Annual MTV Movie Awards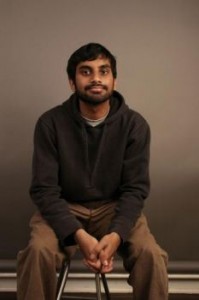 Every year the MTV Movie Awards tricks me. They announce a host that I like and I think, "Wow, that will be pretty cool." Although, the show hasn't been "pretty cool" for some time now. Last year we had Andy Samberg hosting it, and the sketches fell short, and the show was dominated by tween movies like Twilight and High School Musical. It seemed that there was very little difference last year between the MTV Movie Awards and Nickelodeon's Kid's Choice Awards.
So, I'm going to hope and pray that Aziz Ansari brings a little bit more spunk back into what once was a fun (albeit a bit stupid) awards show.
Here is MTV's press release:
One of the fastest rising stars in comedy, Aziz Ansari is set to host the nineteenth annual MTV MOVIE AWARDS, premiering LIVE on MTV, Sunday June 6 from the Gibson Amphitheatre in Universal City, California. This is Ansari's first time hosting the awards show. As previously announced, Emmy Award® winning producer Mark Burnett returns for the fourth year as executive producer.
"Our audience fell in love with Aziz on 'Human Giant.' They followed him to the movies, TV and stand-up, and connect with him daily online," said Stephen Friedman, General Manager, MTV. "Aziz is the perfect host for the 2010 MTV Movie Awards as he will bring his innovative comedy and distinctive style to the movie industry's most rebellious night on television."
"I'm so happy Ronnie from 'Jersey Shore' was unavailable and this exciting opportunity was able to come my way," said Aziz Ansari.
Ansari joins the ranks of past hosts such as Andy Samberg, Ben Stiller, Jimmy Fallon, Mike Myers, Sarah Silverman and Justin Timberlake. The celeb-filled event is MTV's bold nod to the typical awards shows celebrating the year's best in movies.
Aziz Ansari is quickly becoming one of the biggest names in comedy. He currently co-stars opposite of Amy Poehler in the critically acclaimed NBC series, "Parks and Recreation," which was recently renewed for a third season. Additionally, Ansari was just announced to star in Ruben Fleischer's next feature film, "30 Minutes Or Less" and is currently developing three films for Judd Apatow and Universal with Director Jason Woliner.
Nominees for the 2010 MTV MOVIE AWARDS will be announced shortly.