Coen Brothers' "True Grit" HD Trailer Starring Jeff Bridges, Matt Damon, and Josh Brolin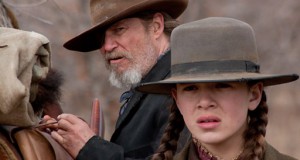 I know I might be blaspheming when I say this, but the Coen Brothers are real hit or miss for me. I might be one of the few people who thought that No Country For Old Men was visually stunning, but it left me wanting a lot more at the end. Many of the Coen Brother films are so beautifully shot, but they never seem to know how to finish them. Despite this reservation, I am riding on a high seeing the trailer for True Grit.  Above all the return of the Western into Hollywood has me excited. In recent years we've had really good additions into the genre which included Aussie Western, The Proposition, and the remake of 3:10 to Yuma. Can the Coen Brothers make another top notch remake? With their impressive cast, and with the beautiful footage shown in the trailer, I believe so.
Synopsis:
A spunky 14-year old girl sets out to avenge her father's death with the help of an aging, drunken, one-eyed marshal.
Starring: Jeff Bridges, Matt Damon, Josh Brolin, Nicholas Sadler
Directed by: Joel Coen, Ethan Coen
Produced by: Robert Graf (II), David Ellison, Scott Rudin
Genres: Action/Adventure, Western, Adaptation and Remake
Release Date: December 25th, 2010 (limited)
[hdplay id=149 width=595 height=375]