"Clash of the Titans" Featurette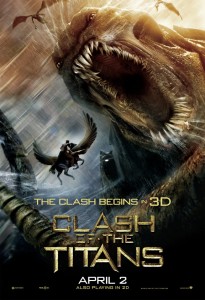 I've mentioned it before, but I think that it is funny that within a month of each other there will be two films based in Greek mythological characters, both starring a hero named Perseus. I've now seen Percy Jackson, and it wasn't great, but it was worth watching. I'm hoping that Clash of the Titans will be an even bigger spectacle, and that the 3D won't be a big disappointment. I'm a little bit worried that they tacked on the 3D at the end. It wasn't a film that was shot for 3D, but when they saw how much Avatar made they quickly changed it to a 3D release.
Regardless, the monsters look cool, and I really like the cast. Ralph Fiennes as Hades seems an interesting choice, and it doesn't look like he is giving us Voldermort 2.0. Liam Neeson continues to try to out god Morgan Freeman, and I'm willing to be they are going to have to have a god battle royale before long.
Synopsis:
Caught amid a war between the gods, Perseus (Sam Worthington), the son of Zeus (Liam Neeson), is helpless to save his family from Hades (Ralph Fiennes), god of the underworld. With nothing left to lose, Perseus leads a band of warriors on a dangerous quest to prevent Hades from overthrowing the king of the gods and laying waste to the Earth.
Cast: Sam Worthington, Liam Neeson, Ralph Fiennes, Mads Mikkelsen, Gemma Arterton, Danny Huston
Director: Louis Leterrier
Genres: Mythological Fantasy, Fantasy Adventure, Fantasy, Sword-and-Sandal
Release Date: March 26, 2010