"Clash of the Titans" Director Louis Leterrier Taking on "Y: The Last Man"?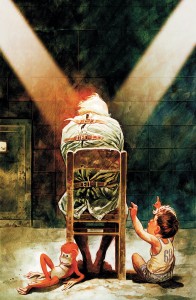 Y: The Last Man has been tied up in developmental hell for some years now. The last person attached to the project was Eagle Eye and Disturbia director D.J. Caruso.  The director has been in talks with New Line about adapting the project for a while.  The film at one time also had Shia LeBeouf tied to the project in the starring role. Although, talks have apparently gone awry and the studio is looking for new talent to take over the film.
The latest development is that Clash of the Titans' director Louis Leterrier is being offered the director's spot of graphic novel adaptation. Although, Leterrier is also rumored to be in the running to direct Marvel's upcoming Avengers film, which would probably put Y: The Last Man on the shelf in the studio. If Clash of the Titans proves to be a big hit, it propel Leterrier's career to a point he has yet to see.
Leterrier actually seems like a decent choice for the DC Vertigo Imprint graphic novel. His visual style feels right for the series. Leterrier has a unique visual flair for action sequences as edvidenced by directing films like Unleashed, Transporter 2, and The Incredible Hulk. I'm imagining that he can make 355 look like the special agent she is supposed to be.
If you haven't read Y: The Last Man yet, I suggest you go and find a way to read it. It is Brian K. Vaughn (Lost) at his best. It tells the story of the last man on Earth, Yorrick Brown, after a global event caused the extinction of the entire male population. It may sound bleak, but it is one of the funniest series I've ever read, and it never lost me for a second. Pick it up for sure!
Who do you think should play the characters in the film? Who do you want to direct the film? Let us know in the comments!