City Island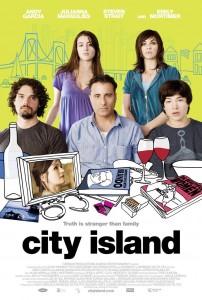 Some things are better left unsaid. While at times a white lie can be better than the truth, when does it go too far? "City Island" is a the story of a family who has their fair share of secrets, but doesn't know when its better to just come clean. The result is a down to earth comedy that keeps you laughing around every twist and turn.
City Island is a tiny square-mile outside of the Bronx. Vince Rizzo (Andy Garcia) is a correctional officer – better known as a prison guard – who lives there with his family. While he upholds a tough exterior at work, it isn't really who he is. Vince has a secret that no one knows, including his family. He secretly wants to be an actor. But while Vince sneaks away at night to attend what he says are frequent poker games, suspicions are aroused. His Wife Joyce (Julianna Margulies) fears that her husband is having an affair, but convinces herself that it either isn't true or it doesn't matter. Meanwhile their children Vivian (Dominik García-Lorido) and Vince Jr. (Ezra Miller) are struggling to keep their own secrets hidden from their parents. One day at work, Vince notices something unusual about one of the new inmates. When he goes to check the file, he finds out that hiding his passion for acting is the least of his worries. A woman that he walked out on while she was pregnant, long before his wife and family, had a son – his son – and he just ended up at the prison. Tony (Steven Strait) is a byproduct of a relationship that Joyce knows nothing about, but Vince wants to be there for his son unlike before. So when he decides to take Tony under his supervision while he waits out his sentence, things get harder and harder to cover up.
Andy Garcia does a great job in the role of Vince. Much lighter than most of his roles, it shows the versatility of Garcia as an actor. Instead of the tough guy we are used to seeing him play, we get a caring husband and father who finds his passion in acting. He does a great job as he tries to create a connection with his long lost son, while trying to make things work with his family at home. You can't help but to feel sorry for Vince as he tries to cover up his secrets, while getting into some pretty funny situations. Julianna Margulies plays his wife Joyce, who has a very strong personality. Joyce feels that she has lost a connection with her husband, and is missing the passion. She goes through quite a range of emotions in the film, and handles them quite well. The two have the perfect chemistry as husband and wife, and really make the marriage feel believable. Steven Strait is extremely likable as Tony, and does a great job interacting with all of the family members. He does a great job as a good person who is mixed up with the wrong things, as he is trying to figure things out for himself. Ezra Miller plays Vince Jr., and although he is a little over the top at times, overall he is pretty entertaining. His character is definitely the odd-ball in the family. Dominik García-Lorido plays Vivian, a college student who is hiding some secrets of her own. She does a good job personifying a character that takes after her mother. She is strong willed like Joyce, while at the same time passionate like Vince. Alan Arkin makes a pretty funny appearance as Vince's acting coach. It was nice to see him in a less serious role, as he teaches the basics of acting.
Throughout the movie, the interactions between the members of this dysfunctional family are quite humorous. Probably the reason why it is so enjoyable and believable is because there is something in it that everyone can relate to. Often times the families in movies seem too perfect, but the Rizzos seem to capture something more true to real families. They fight about things that shouldn't matter, and they hide things from each other that shouldn't be secrets. But at the end of the day, you can tell that they care about each other. There is a lot of chemistry between the entire family, and makes it a lot of fun to watch. One of the most enjoyable parts of the film is watching how their secrets and white lies keep getting misconstrued, and one misunderstanding after another results in a lot of funny situations.
"City Island" is a dark comedy with some heart, which gives the audience just enough silliness without going over the top. The serious tone keeps things believable, while you can't help but to laugh at the situations that the family gets themselves into. The movie is a lot of fun, and audiences will really be able to relate with the Rizzo family in one way or another. In the end we learn that it is better to just tell the truth, but it is a whole lot funnier on-screen not to.
"City Island" is an A-"
Another Take By Zac:
City Island fills its world with a couple of tad too clichéd characters and quite the contrived plot but a great turn by Andy Garcia and plenty of humor that works make it an entering family drama.
The Rizzo's are a traditional Brooklyn family, loud, fighting, and everyone is a tad dysfunctional. Whether they are keeping their smoking from one another, sneaking off to acting class, stripping, or trying to embrace the urge to feed a fat woman every Rizzo has a quirk. But when an unlikely house guest is brought home by the father Vince their slightly dysfunctional world gets an extra spin of insanity which begins building towards a climax of misconceptions.
The film gets a bit contrived rather quickly which makes for a plot you have never really seen before but is a tad tough to believe at the same time. Now the plot isn't anything too outlandish or implausible but it was just too bit of a stretch for me for some reason. The film is also quite predictable at times in that it projects a bit too much when something is about to come around the corner not in a way that some twist is seen coming a mile a way. The shouting matches between the couple/family all feel tired and worn out. The editing could have also used just a tad of trimming as well but other than that I don't have a lot of complaints. The Emily Mortimer character is the most out of place and odd thing about the film and while she is needed as a catalyst and plot point's hinge on her it never felt natural; maybe this is what needed to be trimmed?
Though most of these complaints can be easily forgotten once you get sucked into Garcia's performance and the genuine family humor that does feel fresh compared to some of those things I mentioned above. The writing and direction is sharp and Raymond De Felitta does a great job at getting the most out of his mostly unknown cast and moderate budget.
Andy Garcia is what really makes this film work when it comes down to it and his audition scene is one for the books. Garcia shows a fantastic range of emotions in this one scene that lets him show every thing an actor can do. He also has some great interactions between all of his cast mates and he is the gel that keeps the movie moving forward and stay interesting. One of the finer Garcia roles for certain in recent memory and he deserves all the credit anyone might praise on him for his work. Emily Mortimer's character might be a bit unnecessary, but her performance is as good as always when it comes to her always great work. Julianna Margulies is by far the most cartoonish and over the top of the group but she is a lot of fun and has some decent comedic timing. Steven Strait's character comes across a bit dim to be the sage in the third act but Strait does a fine enough job. Alan Arkin also shines in his brief appearances as Garcia's acting class teacher.
In the end, City Island is funny, doesn't over stay its welcome, and is a solid dysfunctional family comedy. It might not tread too much new ground but Garcia is worth the price of admission alone and he is surrounded by an able cast of supporting characters. The plot may be a tad to contrived for some but the film is light and fun enough for you to just not worry about the logistics of it all and just enjoy the film and the great character Garcia puts up on the screen.
City Island is a B-