'Chuck' Star Zachary Levi Dumps Singer Caitlin Crosby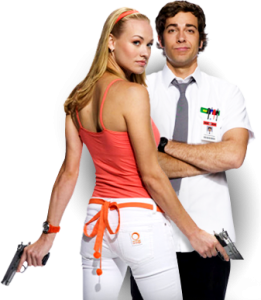 What do you show after your TV show starts performing again in its third season? Well, you dump your girlfriend!  Reports are saying that Chuck star Zachary Levi has dumped his girlfriend of two years, singer Caitlin Crosby. The star of the spy comedy was reported to have dumped her right after their vacation in the Caribbean.
A friend of the singer told US Magazine that Levi said, "it was bad timing and if God brings them together in the future it's meant to be." We had no idea Levi was so spiritual. "Guess he thinks he's too big a 'star' now," the friend says. "No more Mr. Nice Guy."
I'm sorry, but sometimes people break up. Is it really that big of a deal? Does this make him a bad guy because things weren't working out? I hate seeing my friends get broke up with, and you almost always villainize the other person in the relationship. Is that what is going on here?