American Idol Season 9 Started Last Night – Watch Video Recap
American Idol Season 9 kicked off last night with auditions in Boston. Watch the video recap below:

Here is the show's schedule from americanidol.com —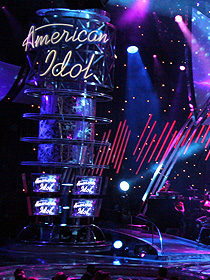 "American Idol is set to return for its much-anticipated ninth season with a two-night premiere featuring extraordinary talent and outrageous new auditions from Boston Tuesday, Jan. 12 8/7c and Atlanta Wednesday, Jan. 13 8/7c on FOX.
After the two-night premiere, auditions will continue for three weeks starting with the Chicago auditions on Tuesday, Jan. 19 8/7c and continuing from Orlando on Wednesday, Jan. 20 8/7c. Then, Dallas auditions will air Tuesday, Jan. 26 8/7c; Los Angeles on Wednesday, Jan. 27 9/8c; Denver on Tuesday, Feb. 2 8/7c; and "The Road to Hollywood" auditions on Wednesday, Feb. 3 9/8c…"
"The lucky auditioners who get the judges' approval then move on to the "Hollywood Round" where contestants vie for a semifinalist position during the next phase of the auditions. Once in Hollywood, Ellen DeGeneres joins Simon, Randy and Kara as they continue to winnow down the competitors to a select group of performers who will get to sing their hearts out each week in front of a studio audience and television viewers.
The "Hollywood Round" episodes will air Tuesday, Feb. 9 8/7c; Wednesday, Feb. 10 9/8c; and Tuesday, Feb. 16 8/7c. On Wednesday, Feb. 17 9/8c, dreams come true for 24 contestants, as Simon, Randy, Kara and Ellen announce the Top 12 male and Top 12 female semifinalists.
It will then be up to America to decide who moves forward in the competition. The first performance show featuring the Top 12 female semifinalists will air Tuesday, Feb. 23 8/7c. The following night, Wednesday, Feb. 24 8/7c, the Top 12 male semifinalists will perform. The results show revealing America's first vote of the season will air Thursday, Feb. 25 8/7c, when the two male and two female contestants with the fewest votes will be sent home.
For the next two weeks, the girls will perform on Tuesdays, the guys will perform on Wednesdays and the results shows will air on Thursdays. The Top 10 female semifinalists will perform on Tuesday, March 2 8/7c, and the Top 10 male semifinalists will take the stage on Wednesday, March 3 8/7c. On Thursday, March 4 8/7c, four contestants – two girls and two guys – will be eliminated from the competition. The following week, the Top 8 female semifinalists will compete on Tuesday, March 9 8/7c, and the Top 8 male semifinalists will perform on Wednesday, March 10 9/8c. Then, on Thursday, March 11 8/7c, the finalists will be revealed after four more contestants are eliminated.
The competition heats up when the finalists take the stage LIVE and for the first time together on Tuesday, March 16 8/7c. One contestant's journey will end when America's vote is revealed Wednesday, March 17 9/8c."
Who was your favorite? Least favorite? Leave a comment below!