Channing Tatum Producing and Starring in "The Contortionist's Handbook"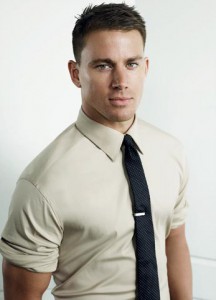 Say what you will about Tatum's acting choices, but the young actor has made some solid money in his movies. In fact, he is doing so well that he is starting to produce projects of his own. Case in point, Tatum is producing a film adaptation of The Contortionist's Handbook, a 2002 novel by Craig Clevenger, in which Tatum will also star in.
Our helpful friend, Wikipedia describes the book as such, "John Dolan Vincent is a talented young forger with a proclivity for mathematics and drug addiction. In the face of his impending institutionalization, he continually reinvents himself to escape the legal and mental health authorities and to save himself from a life of incarceration. But running turns out to be costly. Vincent's clients in the L.A. underworld lose patience, the hospital evaluator may not be fooled by his story, and the only person in as much danger as himself is the woman who knows his real name."
The film is a co-production between GreeneStreet Films and Sidney Kimmel Entertainment, and DAS Films. Tatum is aboard the project as co-producer, along with Reid Carolin, his partner in 33andout Productions.
"Craig Clevenger's crafting of the highly complex character of John Vincent Dolan entertained and shattered us when we read it," said GreeneStreet's John Penotti. "Robin's adaptation crisply captures the gripping journey that Channing will lead us through."
Production on the film starts next year. Currently, Tatum is filming the Ron Howard directed comedy, The Dilemma, in which he co-stars with Vince Vaughn and Kevin James. He is also signed on to shoot The Vow, co-starring Rachel McAdams. His busy schedule continues with the Kevin Macdonald-directed Focus Features drama The Eagle. Tatum recently wrapped shooting on Steven Soderbergh's Haywire.
Looks like we'll be seeing a lot of Tatum over the next couple of years, and it also appears the quality of his projects is increasing. Does Tatum have a bigger future in Hollywood than a lot of people expected? I think so.
Let us know what you think in the comments!