"Cedar Rapids" HD Trailer Starring Ed Helms and John C. Reilly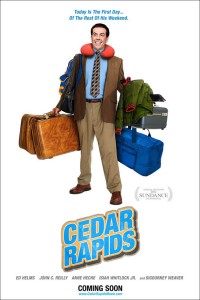 Watching this trailer, I can't tell if it is the next coming of Office Space, or a retread of 2009's The Goods. You know what I'm talking about, a talented cast in an over the top somewhat formulaic comedy, and an independent arm of a major distributor.  I'm hoping Helms continues to show just how good his comedic chops are, and that he shows some good chemistry with Reilly. It should make it easy that Reilly is a comedic chameleon who seems to have solid chemistry with just about any actor he is paired with.  Its February release date doesn't speak a lot of praises for it though. I'll keep this under "we'll see", for now.
Synopsis:
After the death of his professional mentor, a small-town, shy, naive Wisconsin insurance agent must represent his company at a regional insurance convention in Cedar Rapids, Iowa, where his mind is blown by the big city experience.
Starring: Ed Helms, John C. Reilly, Alia Shawkat, Anne Heche, Sigourney Weaver
Directed by: Miguel Arteta
Produced by: Ed Helms, Alexander Payne, Jim Burke
Release Date: February 11th, 2011 (limited)
[hdplay id=251 width=595 height=375]