C2E2 2017 Recap: The Cosplaying Photographer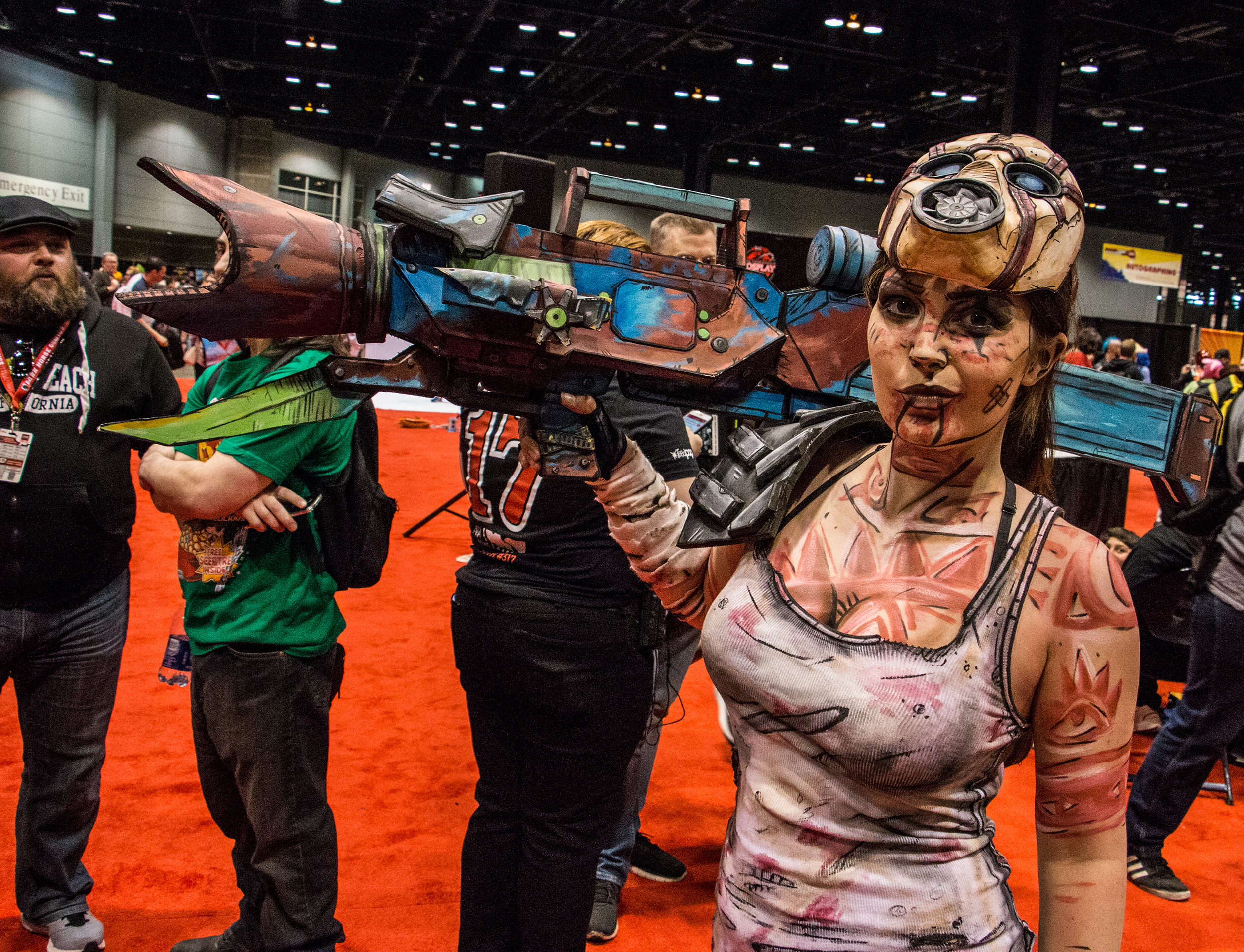 SATURDAY
Finally, on to the con!
Justin and I were so excited to get going, we rushed through our morning routines and completely skipped breakfast. Rookie mistake, I know. After suiting up and preparing our gear, we caught a quick Uber ride to McCormick Place. I say it was quick, but it was actually agonizingly slow with the combination of congested traffic and our building anticipation.
Even the lobby of McCormick was impressive. Upon entering the front doors, we immediately spotted dozens of recognizable characters and hordes of fans on their way up to the registration area. We bounced around the lobby like a couple of pinballs, snapping photos, recording video, and talking to the con-goers to get a handle on the atmosphere. The sheer number of cosplayers was overwhelming, but lucky for us they were all fantastic people. They were beacons of enthusiasm, creativity, and masterful patience. I could spend a week listing off all the amazing costumes we saw and the cosplayers we met.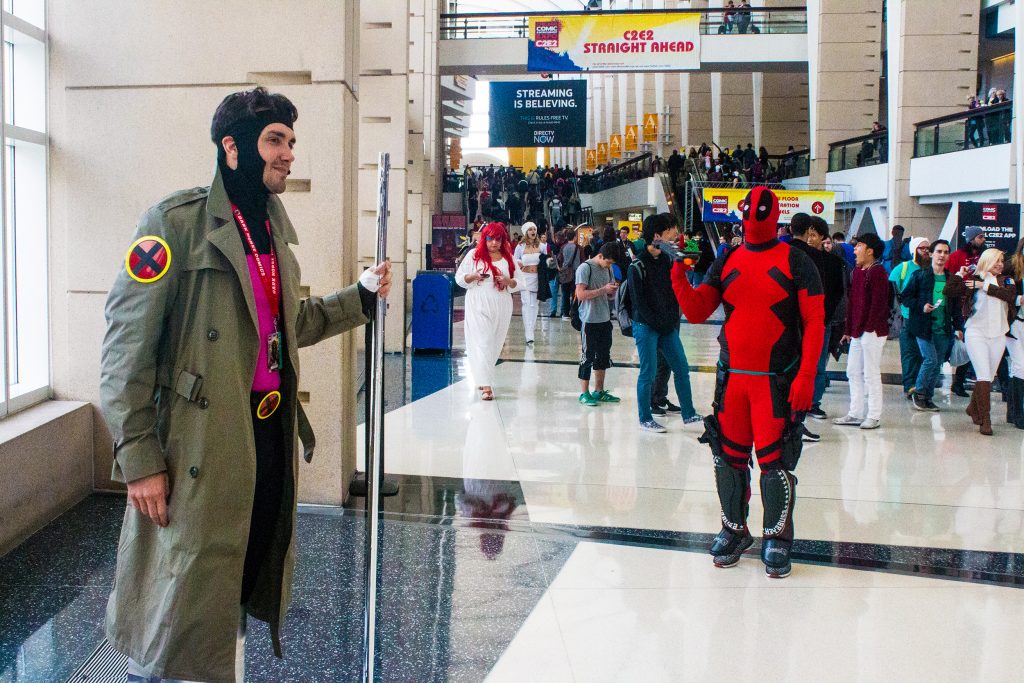 We made our way to registration, through a lobby packed full of talent.  The C2E2 staff was accommodating, and let us jump right into doing our jobs. I guess showing up late as press was a blessing, because that process was shorter than getting a clean picture of some of the cosplayers!
Being in costume myself, I also had my picture taken a few times before even getting into the convention floor. So much happened out in the lobby that I feel like any random geek could show up with no ticket and still have a good time. It was also pretty great to know that my vault dweller costume still held appeal despite the incomplete costume and non-working Pip-Boy clinging to my wrist. Since I was pulling double duty on Saturday, I opted to leave the shotgun prop and satchel out of the equation. A camera and a backpack full of gear would be more than enough weight for a day of navigating the con floor.
Our first mission was a great panel. The Men, the Myths, the Legends: Stan Lee and Frank Miller One-on-One. This panel was indeed legendary. I missed an opportunity to see Stan Lee back when he was in St. Louis and regretted it. But this more than made up for it. The combined experiences of these two and their rapport made for an unforgettable show, and the room was packed with fans who were delighted at their friendly banter. Both Stan and Frank recalled the best moments of their time in the comic book industry. The way they poked fun at each other, you'd have thought you were watching Grumpier Old Men of Comics. It was hysterical, and the audience loved every minute of it.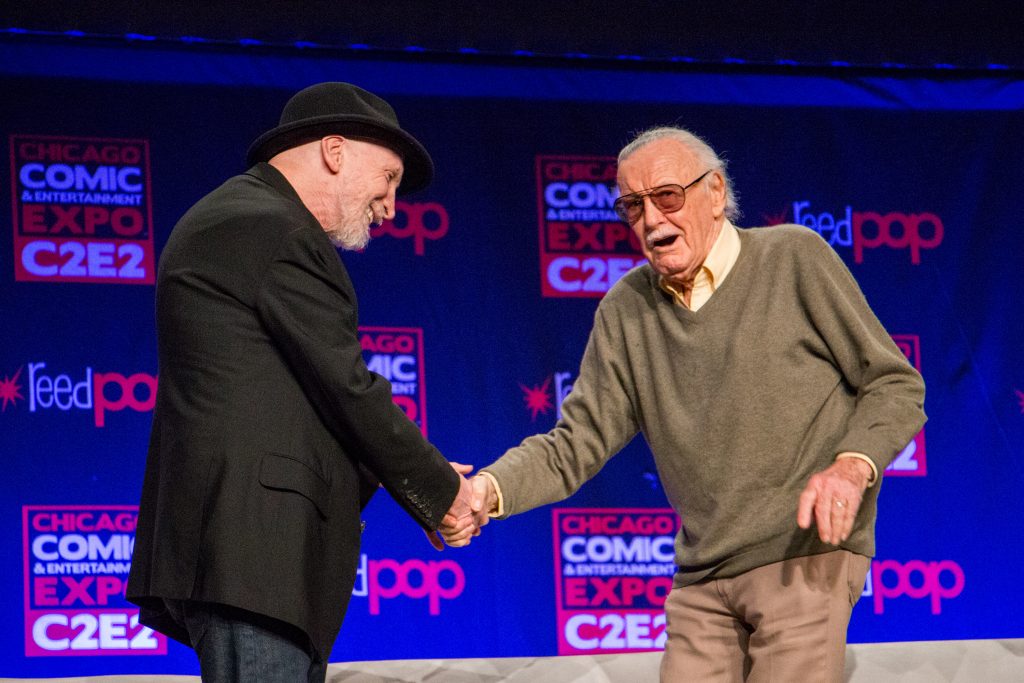 While talking to someone who'd complimented my vault suit after the panel, I went to show him that my Pip-Boy still lit up despite the technical problem – only to find it booting up! The Pip-Boy picked up the energy inside C2E2 and awoke from its slumber. I was ecstatic. My best prop was back online, and DJ Travis was playing some tunes on Diamond City Radio!
Next, we went down to Cosplay Central to get some shots for Justin's video and my photo gallery. The same thrill of seeing heroes, villains, and Stormtroopers walking around the lobby was reflected a hundred fold on the main floor of C2E2. There were so many Star Wars cosplayers gathered around the 501st, Rebel Legion, and other Star Wars booths that it was like a mini-Celebration Orlando. There were so many great costumes, which included characters from both the canon and Legends expanded universe (which I still love). I even met a talented cosplayer dressed as Mara Jade from St. Louis!
As we ventured out into the main cosplay area, it wasn't long before I spotted two of my favorite cosplayers from Wizard World St. Louis: the lovely couple known as Thousand-Faces Cosplay. They were rocking Tiny Tina and Krieg from Borderlands brilliantly once again. I absolutely love seeing how much fun they have with it, and the joy it gives everyone they interact with. And I even had the honor to take part in some of their wasteland group pictures. I think I may have been the only one in there that wasn't a psycho. Oh well, what do I know? I've been living in a vault!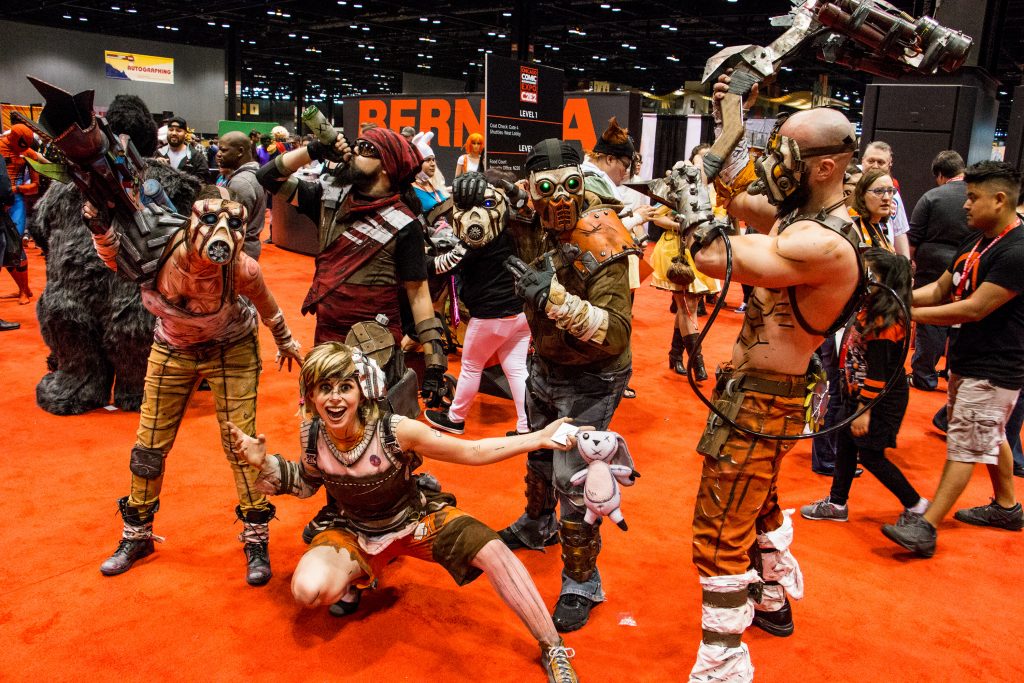 After once again playing picture pinball with Justin, we pointed our cameras at the beautiful and frightening Deathpact Angel emerging onto the floor. My amazingly talented friend Victori Belle extended her ebony wings and soared for all to see. Although she didn't literally fly, it looked as if she could. Her dark wingspan was impressive, and her angelic scythe inspired fear. She is excellent at capturing the feel of a character. We were hoping to interview her in the costume, but decided it was best to save it for Sunday with the gathering of magic fans around her.
Keeping track of time can get a little tricky at conventions. They're so much fun, and everyone is so nice, that it's easy to get side-tracked. Fortunately for us, the celebrity guests at C2E2 can get a little side-tracked too. Justin and I made it to the Twisted Toonz panel about five minutes late, but were lucky it hadn't started. I have a hard time putting into words just how happy I was to see this panel.
Twisted Toonz was created by Jeff Zannini, a brilliant manager and talent agent who came up with this simple idea: have voice actors from cartoons and video games read movie scripts. Today's movie was "Back to the Future" and the wonderful cast assembled was comprised of Troy Baker, Steve Blum, Jim Cummings, Dave Fennoy, Jennifer Hale, David Hayter and Richard Horvitz!
Now, I don't want to spoil the whole panel for you if you plan to watch our video, but hearing Troy Baker as Jeff Goldblum was incredible. By the end of the show, my stomach hurt like I was doing sit-ups. In addition to celebrity impressions, many of the actors brought their old beloved characters back to life as parts of the movie. Jim Cummings playing Winnie the Pooh as Marty McFly was fantastic, and almost brought me to tears laughing. Check out our photos and video from the panel, and hopefully you can feel like you were there too.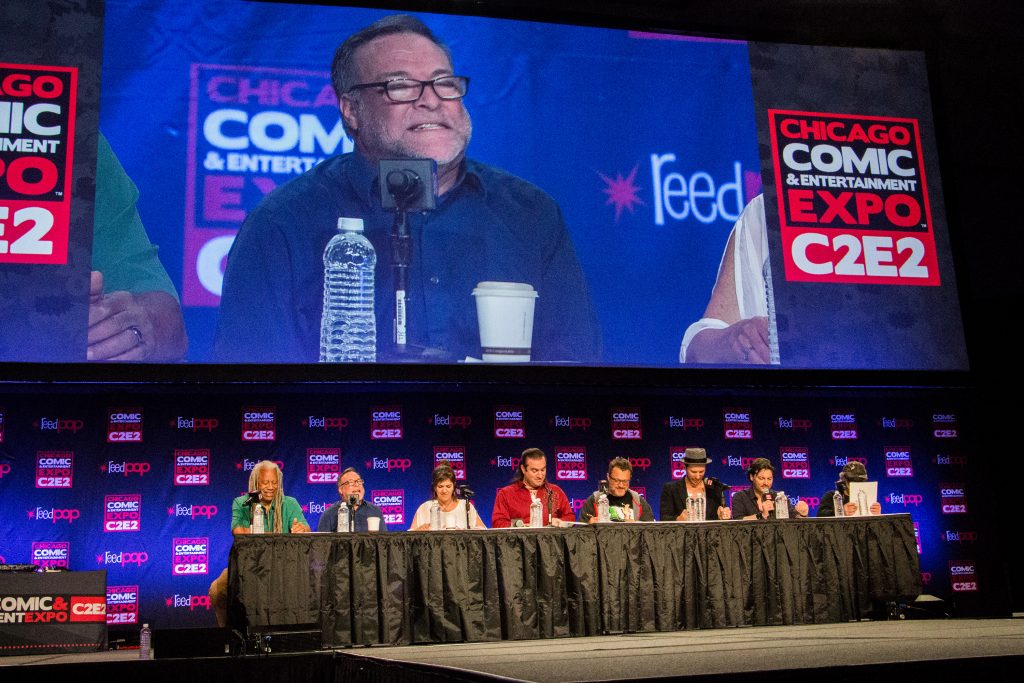 After witnessing what was probably the best live show I'd ever seen, we went back down to the floor to see if we could get a little further than Cosplay Central this time. Of course, we were immediately once again stuck in our fanboy excitement of the cosplayers. But realizing that the day was soon coming to an end, and we had work to do, we moved on to the rest of the floor.
The main floor was a glorious treasure trove of collectibles, comics, artwork, and many of the extremely talented individuals that created it all. I started my hunt for the one thing that I wanted to buy at the convention: a Nuka Cola pin, to represent C2E2 on my satchel (to put alongside the Mini-Nuke from Wizard World St. Louis). Eventually, the length of the day and the fact that Justin and I had not eaten anything all day wore us down. On our way out we ran into some friends who were cosplaying, and and snapped a few pictures before inviting them to dinner. James came with, but Darryl (dressed as my backup, The Mysterious Stranger) went back into the floor to search for Quicksilver (our friend Ryan).
One delicious and much-needed meal later, it was time for the Sonicboombox C2E2 after party at Baderbräu. We stopped briefly to drop off our equipment and pick up the rest of my costume before heading out. We walked in thinking this party would be comparable to the one at the Crack Fox (held by Victori Belle after Wizard World in St. Louis), but this was a much more relaxed affair. There were video game consoles set up all over the top floor, with spaces for people to sit back and button mash. Being so exhausted from the day, we never made it down to the dance floor – but we had plenty of fun upstairs.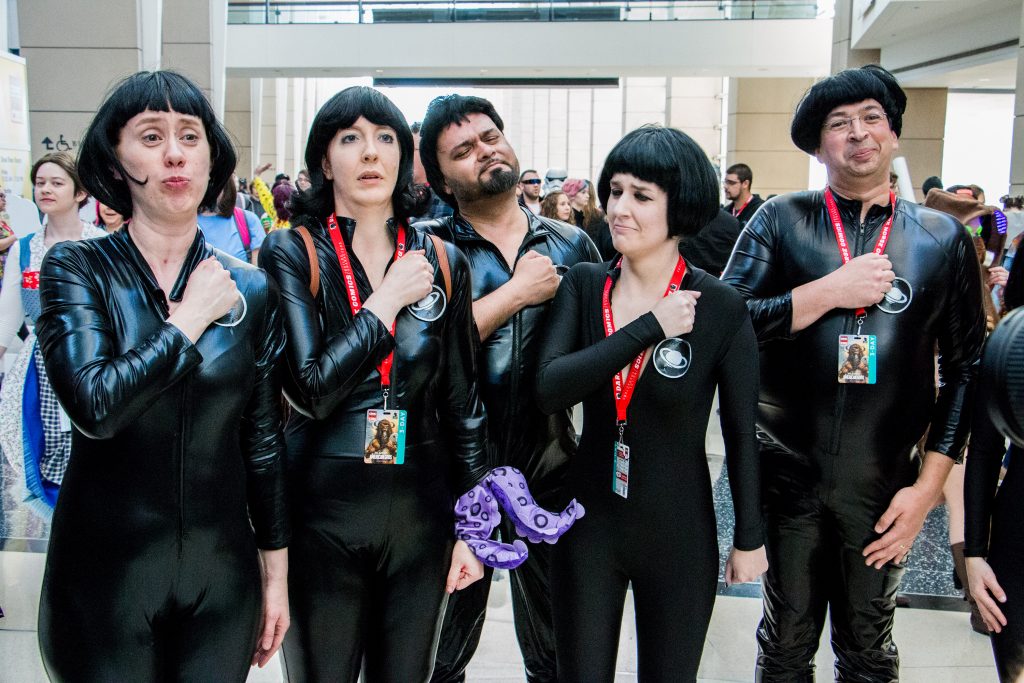 Reconnecting with Darryl and Ryan, we shared a table with some of the most awesome and lovable people at the convention. A simple compliment along the lines of "hey, nice beard" can be all it takes to open doors to great new friendships.  These three lovely gems, all talented cosplayers from North Carolina, swooped in and turned our whole evening around! Jenn (Jenna Say What?) and Jenny (Goth Mama Cosplay) shared grand stories of past conventions and their love of costumes, while Stormy (Tiny Villain Cosplay) and I bonded over our mutual love of Fallout and video games. By the end of the night, we all traded information and planned to meet up at the con on Sunday. All the while, we were unaware that we'd just been inducted into a cosplay mafia!
Next: Sunday