Burn Notice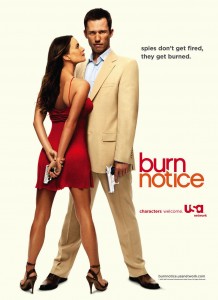 WHAT IS BURN NOTICE?
When spies get fired, they don't get a letter from human resources.
They get BURNED…
This summer, USA Network presents the third season of Burn Notice, a sexy, action-packed original series starring Jeffrey Donovan as Michael Westen, a blacklisted spy. After coming face to face with the group of people that burned him, Michael must figure out his next move. All while staying ahead of anyone else that may have him in their crosshairs. In the meantime, he continues to use his unique skills and training to help people in desperate need of assistance.
Burn Notice also stars Gabrielle Anwar as Fiona, a beautiful ex-IRA operative who happens to be Westen's ex-girlfriend. Bruce Campbell stars as Sam, Michael's closest buddy in town. Sam is a washed up military intelligence contact who is an expert in tactical analysis, cutting through red tape, and finding the quickest route to a cold Mojito. Also starring is Emmy® Award-winner Sharon Gless as Madeline, Michael's hypochondriac mother, who couldn't be happier to have her boy back in town.
Created and written by Matt Nix, Burn Notice combines intense action/thriller elements with surprising humor to create an iconic new breed of spy.
Burn Notice, the hottest show on cable, returns for its third season with all new episodes on Thursday, June 4 at 9/8C. New episodes will air throughout the summer on Thursdays at 9/8C.