Entourage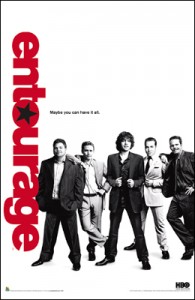 HBO presents Entourage, the hit comedy series that takes a look at the day-to-day life of Vincent (Vince) Chase, a hot young actor in modern-day Hollywood, and his entourage. He's brought with him from their hometown in Queens, NY: manager Eric, half-brother Drama, and friend Turtle. The series draws on the experiences of industry insiders to illustrate both the heady excesses of today's celebrity lifestyle, as well as the difficulty of finding love and success in the fast track of show biz. Now that the boys are getting used to the perks of stardom, Eric, along with superagent Ari, keep Vince's star rising while making sound decisions for a long-lasting career in a world of fleeting fame.
From executive producer and creator Doug Ellin, and executive producers Mark Wahlberg, Stephen Levinson, Denis Biggs, Rob Weiss and Ally Musika, Entourage draws on the experiences of industry insiders, and stars Adrian Grenier as Vince, who is enjoying life in the limelight as a hot young actor; Kevin Connolly as Eric, Vince's manager, who is considering moving into his own place; Kevin Dillon as Vince's half-brother Drama, whose own career has been eclipsed by Vince's success; Jerry Ferrara as Turtle, the least savvy of the group, who's now in a relationship with actress Jamie-Lynn Sigler; and Golden Globe® and three-time Emmy® winner Jeremy Piven as Ari, who serves as Vince's aggressive, high-powered agent.
Also featured on the new episodes of Entourage are series regulars Perrey Reeves as the long-suffering Mrs. Ari; Rex Lee as Ari's long-suffering assistant Lloyd, who's seeking a promotion; Gary Cole as Andrew Klein, Ari's former mentor and new partner; and Emmanuelle Chriqui as Sloan, Eric's on-again, off-again girlfriend. Returning guest stars include Jamie-Lynn Sigler as herself; Beverly D'Angelo as Ari's other partner Babs; Debi Mazar as Vince's publicist Shauna; and Bow Wow as Charlie, Eric's client.