Bruce Willis Talks "Die Hard 5" and "Unbreakable 2"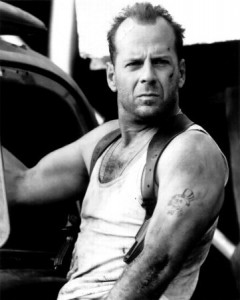 Bruce Willis has been doing the rounds to promote his new film Cop Out which he stars in with Tracy Morgan and Seann William Scott. Along the way he has let some new details about sequels to popular films.
"I think we're going to do a 'Die Hard 5' next year," Willis told MTV News. "It's got to go worldwide. That would be my contribution to it." He also added that his choice for director on the film would be Live Free or Die Hard's Len Wisemen, who has not helmed a feature since then.
Willis also talked with MTV about a sequel to M. Night Shyamalan's Unbreakable. "I talked to [Shyamalan] over the holidays, and he is still thinking about doing the fight movie between me and Sam that we were gonna do," he said. "We chose to do the origin."
I'm not really sure how I feel about either of these sequels. It seems that neither one of them is really necessary.  Live Free or Die Hard was a big step down in the series, and it wasn't help that it was watered down to a PG-13 rating to gain more mass appeal.  Unbreakable is easily my favorite of Shyamalan's movies, but I'm not sure it really needs another part. What made the first one so good was the mystery behind the story.